Phiz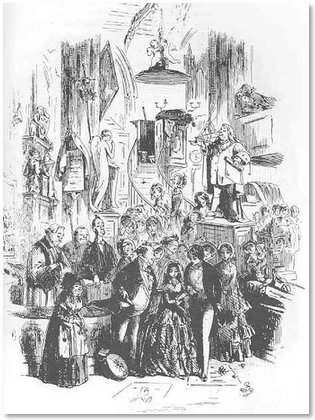 Phiz Illustration from David Copperfield
Hablot Knight Browne (Lambeth, July 12, 1815 - London, July 8 1882), better known by his pseudonym Phiz - (the nickname with which he signed all his works), was an English illustrator. Browne illustrated the first editions of many of Charles Dickens best known works, and is regarded by some critics as the "man who made Dickens" in the sense that Browne's illustrations brought Dickens' characters to life and helped make his books popular.
Browne reached the height of his fame as an illustrator of the characters in the novels of Charles Dickens, his technical mastery surpassing that of his major rivals of the time, George Cruikshank and John Leech.
Browne was born in Lambeth, England (near London) on Kennington Lane. He was the fourteenth of fifteen children of Catherine and William Loder Browne. When Browne was 7 years old, his father William Brown, abandoned the family, changed his name to William Breton and sailed to the United States, where he became famous for his watercolors. Eventually, his wife went to court and had William Brown declared dead. Browne's family was left destitute. Thomas Moxon, husband of William's sister, Ann Loder Browne, helped the large Browne family financially.
However, Browne chose not to pursue a career as an engraver. His artistic interests lay in drawing and illustration. In 1833, Browne won an important award from John Gilpin's Society for the Arts, and the following year Browne left the engraving workshop to devote himself to drawing.
In the spring of 1836, Browne met Charles Dickens; and began a long standing artistic relationship with the author. Dickens was looking for an artist able to illustrate his novel "The Pickwick Papers" and chose Browne to be the illustrator after seeing Browne's illustrations for a little pamphlet entitled Sunday under Three Heads. Dickens was impressed by Browne's work as an artist.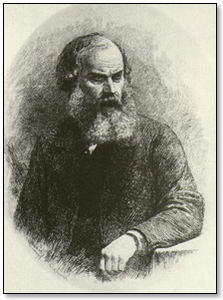 A Pencil Portrait of Phiz
The Pickwick Papers was released in monthly instalments from 1836 to 1837. The first seven illustrations had been drawn by Robert Seymour. However, Seymour had committed suicide in 1836, before the book had been completed. The next two instalments had been illustrated by R.W. Buss, a successful portrait artist, but Dickens had not been entirely pleased with Buss's work.
Browne and another illustrator, WM Thackeray, presented themselves at Dickens's office to offer their services. The writer chose Browne.
Browne's first two illustrations for The Pickwick Papers were signed with the alias, "Nemo" (which means nobody in Latin), but from the third illustration onward he signed his drawings with the penname "Phiz," which would be his penname throughout his career.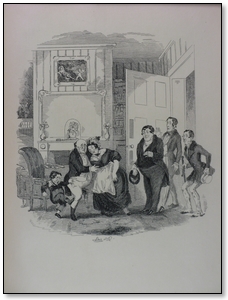 Phiz's Illustrations from the Pickwick Club
When Browne was asked why he had chosen "Phiz" as his penname, he explained that he had chosen it to match Dickens' pseudonym, "Boz".
"Boz" and "Phiz" soon became good friends, and in 1838 made a trip together through the Yorkshire.
Phiz illustrated ten of Dickens's books. His best illustrations are the ones he did for David Copperfield, Pickwick, Dombey and Son, Martin Chuzzlewit and Bleak House.
In addition to his work for Dickens, Phiz did a lot of illustrations for Punch Magazine. Phiz also illustrated more than twenty novels by Charles Lever (for example Charles O'Malley, Jack Hinton and Knight of Gwynne). He also illustrated the works of Harrison Ainsworth and Frank Smedley.
In 1867, in the prime of his career as an illustrator, Phiz was hit by a palsy. Phiz recovered slowly, and was able to return to illustrating. However his work lacked the artistic merit of his pre-illness drawings.
In 1878 he received a special commendation from the Royal Academy for his career as an illustrator. Phiz's health slowly deteriorated until he died on 8 July 1882.

Hablot Knight Browne (Phiz), Dickens Illustrator
Click here to read a Biography about Hablot Knight Browne (Phiz) which was published on the occasion of his death. The memoir contains a number of great illustrations from the works of Charles Dickens as well as other books illustrated by Phiz.