David Copperfield
David Copperfield is a novel by Charles Dickens published in 1849 - 1850. Like almost all of Dickens's Dickens, David Copperfield was published in monthly installments in a newspaper owned by the author. It enjoyed enormous success.
The following is a schedule showing when each chapter was published:
| | | |
| --- | --- | --- |
| Number | Date | Chapters |
| I | May 1849 | 1-3 |
| II | June 1849 | 4-6 |
| III | July 1849 | 7-9 |
| IV | August 1849 | 10-12 |
| V | September 1849 | 13-15 |
| VI | October 1849 | 16-18 |
| VII | November 1849 | 19-21 |
| VIII | December 1849 | 22-24 |
| IX | January 1850 | 25-27 |
| X | February 1850 | 28-31 |
| XI | March 1850 | 32-34 |
| XII | April 1850 | 35-37 |
| XIII | May 1850 | 38-40 |
| XIV | June 1850 | 41-43 |
| XV | July 1850 | 44-46 |
| XVI | August 1850 | 47-50 |
| XVII | September 1850 | 51-53 |
| XVIII | October 1850 | 54-57 |
| XIX-XX | November 1850 | 58-64 |

You can read the full text of David Copperfield online by clicking here.
Many elements of the novel were inspired by events that occurred to the author, and so this work can be considered an autobiographical novel of the life of the great nineteenth-century writer.
David Copperfield is also considered an industrial novel, because it reflects the poverty experienced during the Industrial Revolution, and the widespread exploitation of women and children in factories.
The first edition of David Copperfield was illustrated by Phiz, one of the most important illustrators of the books by Charles Dickens.
David Copperfield Plot Summary
David Copperfield's father dies before his birth, and David grows up without the benefit of a father figure. David finds support in his mother and their housekeeper, Peggotty.
David's mother, however, feels the need to have a husband and then marries Mr. Murdstone, a stern and insensitive man, and also welcomes into their home the sister of Mr. Murdstone. The sister, David's step-aunt, proves even more insensitive than her brother. Both seek to remove David from his family send him to boarding school. There, David gets to know Steerforth, a fellow student who will become his greatest friend and companion, as well as the stern headmaster, Creakle.
Returning from school, David finds a new little brother and a mother oppressed by her husband. Eventually, David's mother dies and David is sent off to forced labor by his step-family. During this period, David stays with the Micawber family and develops a deep friendship with them. Mr. Micawber is unable to look after the household expenses and goes into debt, at which point David decides to run away from London. After many adventures he reaches Dover, where is his aunt, Betsey Trotwood, lives.
The aunt and her roommate, Mr. Dick, welcome David and pay for David to study law at Canterbury, where David rents a room in the house of a lawyer named Wickfield. There, David develops a sincere friendship with Wickfield's daughter, Agnes, a sweet and good comforter. After completing his studies David articles at the law firm of Spenlow & Jorkins and meets Spenlow's daughter, Miss Dora, eventually falling in love.
David renews his friendship with Steerforth, who eventually reveals himself as a treacherous and amoral traitor.
David becomes a parliamentary reporter and marries Dora Spenlow during this period. The marriage turns out to be happy, and David began to be appreciated as a writer for some of his works, but after a few years his wife dies. This causes great pain to the young man, who turns to Agnes, his support in times of grief. In doing so, David discovers the virtues of Agnes, whom he had always considered a sister, and begins to feel a strong affection for her. However, the slippery and treacherous Uriah Heep, Wickfield's administrator, is also attracted to Agnes and is determined to marry her. To achieve his goal, Uriah Heep almost ruins Wickfield financially in hopes that he will submit and consent to the marriage, but is unmasked, thanks to the constant work of Micawber, who had since been hired by Uriah, as well as Traddles, another one of David's school friends. At the end of the book, David marries Agnes, who was always secretly in love with him.
Main Characters in David Copperfield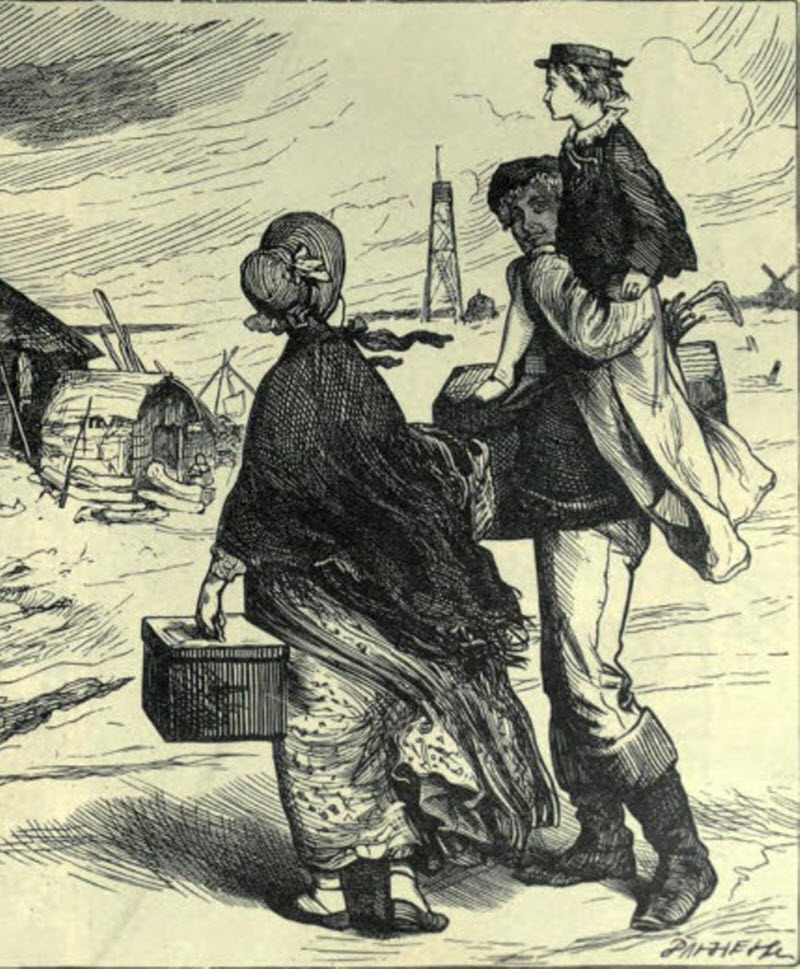 David Copperfield
The novel's protagonist. After spending a happy childhood with her mother and the servant Peggotty, David Copperfield is forced by her stepfather to attend boarding school and then sent to work hard in the sweat shops of industrial England. He seeks refuge from his aunt Betsey, studies at Canterbury and is taken in by the lawyer Wickfield. He then starts an internship at the law firm of Spenlow & Jorkins, marries Dora, daughter of the owner, who unfortunately dies. After a period of depression, David experiences literary fortune and marries Agnes Wickfield. David has many nicknames: Steerforth calls him "Daisy", Dora calls him "Doady", Aunt Betsey calls him a "Trot", the diminutive of "Betsey Trotwood Copperfield", a name that he wanted to give her nephew if David had been born female.
Agnes Wickfield (later Agnes Copperfield)
The only and much loved Wickfield. She has always been secretly in love with David Copperfield. She is coveted by Uriah Heep, her father's assistant, and "saved" with the help of friends of David and David Copperfield himself, whom she eventually marries.
Betsey Trotwood
David Copperield's aunt. She has a tough personality but us basically good. She lives with her strange tenant, Mr. Dick. Betsey Trotwood plays a crucial role in the subsequent life of David Copperfield, and temporarily takes David into her home after he escapes from the bottle factory where he had been confined by his stepfather Edward Murdstone, after the death of his mother. The aunt, in spite of her gruff character, is responsible for the maintenance of the boy and also for his education, giving him the opportunity of attending a good school in Canterbury and to pursue a career as an attorney. Trotwood is married but separated from her husband whom she still loves very much. Her husband reappears from time to time, frightening and upsetting Trotwood, who often lends him money to ensure that he stays away for a long time. The character is modeled on Miss Mary Pearson Strong who lived in Broadstairs, Kent. His former residence now houses the Broadstairs' Dickens House Museum.
Secondary Characters in David Copperfield
Wilkins Micawber
David Copperfield stays with him during while he works in the factory "Murdstone and Grinby". Micawber is eternally in debt, with the help of David and Micawber's wife Emma is able to get out of debt and emigrate to Australia with his wife and children. There Micawber achieves success. This character is based on Dickens' father, John Dickens, who was himself arrested for the nonpayment of debts.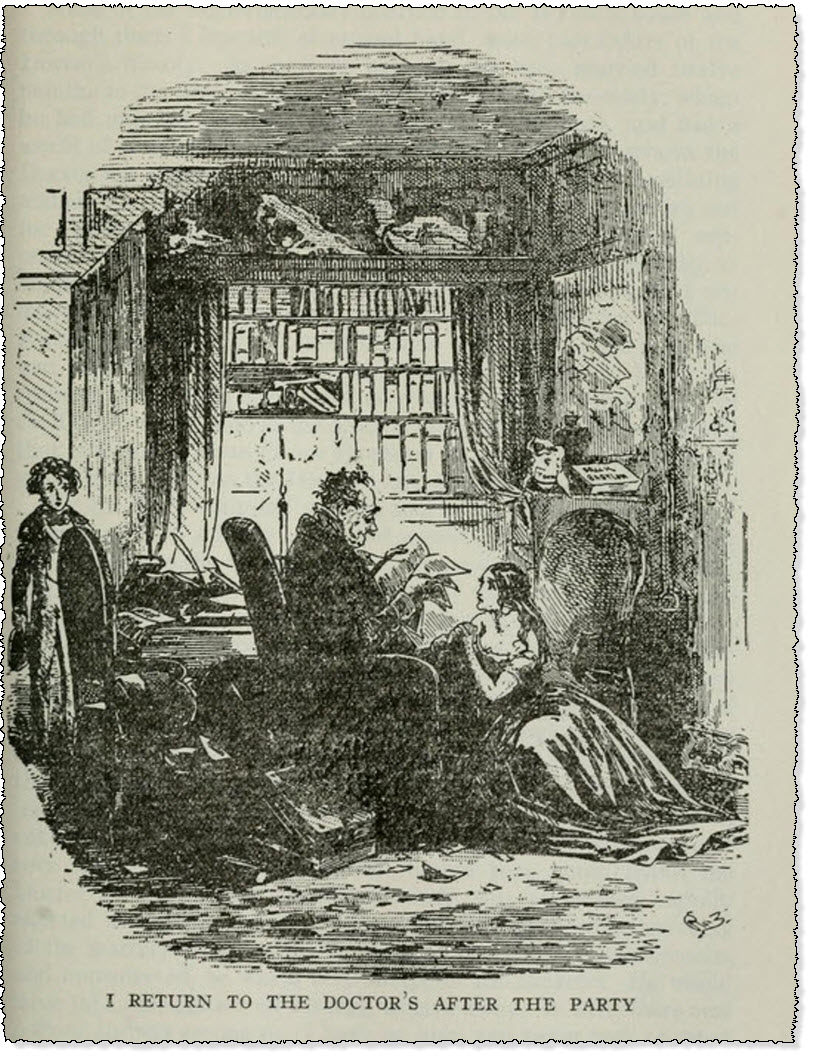 Emma Micawber
Wife of Wilkins Micawbar. She has a good character and is more practical than her husband. She becomes concerned when Wilkins stops confiding in her, but is later relieved to discover that her husband's behaviour is due to his preoccupation with dismantling Uriah Heep.
Clara Copperfield (later Murdstone)
David Copperfield's mother; a very sweet character, was married to a man who died a few months before the birth of her son. At first lives alone except her son and the servant Peggotty, with whom she quarrels often, but is extremely affectionate. She later marries Edward Murdstone with whom she has another child. She eventually dies due to her new husband's mistreatment.
Edward Murdstone
Edward is Clara's second husband and David Copperfield's step-father. He has an extremely hard and severe character. He mistreats David and his mother and eventually causes Clara's death. He tries to distance David from his family, first by sending him away to boarding school and then to work in a bottling factory. After the death of David's mother, Murdstone inherits the family home.
Jane Murdstone
Sister of Edward Murdstone. She has an even harsher personality than her brother, and is suspected (without justification) of having a secret lover. Later in the novel, she reappears as a lady in waiting to Dora Spenlow, who however does take her into her confidence.
Peggotty (later Barkis)
She is the Copperfield family servant. A very affectionate woman despite her frequent arguments with David's mother, Clara. David's earliest memories are of Peggotty and the sensation of touching her thumb, roughened from the sewing needle, and of Peggotty reading a primer book about alligators to him, which David preserves as a sort of relic. Peggotty comes from a poor family who lives on a boat very well suited for habitation.
The Lawyer Wickfield
A lawyer friend of Aunt Betsey. David studied at his law firm. He is at risk of being ruined by Uriah Heep, his assistant, is very fond of his daughter Agnes and is a good father, despite a fondness for drinking too much Port.
Uriah Heep
Wickfield's slimy, and hypocritical Wickfield and, later, his partner. Heep falsified documents and embezzled money from Wickfield; schemes to marry Agnes, but is exposed by Micawber with the help of Traddles.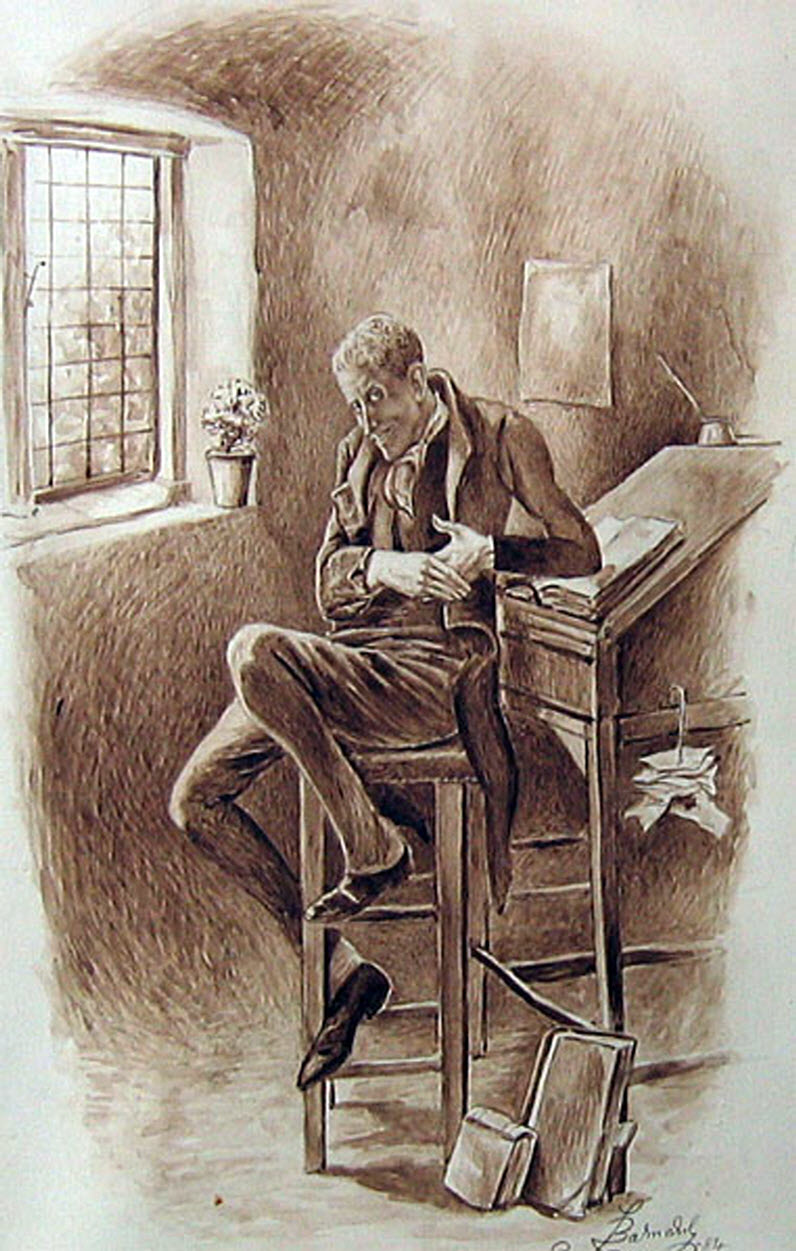 Ham
Peggotty's nephew; is a good person and a diligent worker. He dies tragically at sea.
Emily
Peggotty's niece and Ham's cousin. She was the first love of the young Copperfield, who meets and collects shells by the seashore with her when she goes to visit Peggotty; elopes along with Steerforth, the treacherous friend of David, but is abandoned, but is then found by his uncle Daniel after being shipwrecked and having lost her memory for a brief time.
Daniel Peggotty
The brother of Peggotty, the Copperfield family's servant. He is very fond of his grandchildren and searches for Emily for months before finding her.
James Steerforth
The much beloved member of a wealthy family, a school friend of David. He causes the good teacher, Mr. Nell, to be fired. He later reveals himself his true character after treacherously running off with Emily. He dies in a shipwreck.
Tommy "Thomas" Traddles
Another classmate of David, noted for his passion for drawing skeletons. He is often whipped despite being a good boy. David is not as fond of Traddles as he is of Steerforth, but Traddles proves himself much more loyal and useful in the end. Traddles becomes a lawyer and, at the request of David, helps Wickfield.
Dora Spenlow (later Dora Copperfield)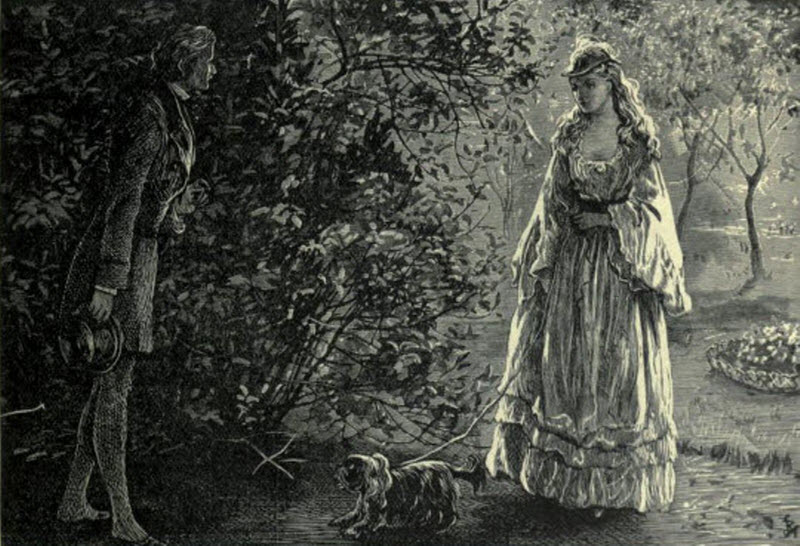 The frivolous but good first wife of David, daughter of his employer Spenlow. She dies after a few years of marriage, throwing her husband in a lengthy but temporary state of despair.
Creakle
The violent director of the boarding school attended by David, Steerforth, and Traddles. He frequently whips his pupils. Creakle is unable to speak loudly and has swollen veins in the neck; every time he opens his mouth he needs an interpreter.
Julia Mills
A close friend of Dora Spenlow, she helps David keep in touch clandestinely with Dora, through letters Later, she moved to India with his father.
Mister Dick (Richard Babley)
Wacky tenant of Aunt Betsey, who holds him in high regard. A little unbalanced; he believes that he has the problems of King Charles I in his head.
Barkis
Stingy coachman who often carries David to the ship-habitation of Peggotty, Peggotty marries him after a long courtship.
Mrs. Gummidge
The widow of a sailor friend of Daniel Peggotty who died at sea. She describes herself as alone and helpless, but after Emily's flight with Steerforth radically changes her behavior.
Martha Endell
Young girl of bad reputation who helps Daniel Peggotty to find his niece Emily. At the end of the story she emigrates to Australia with Emily, Daniel Peggotty and Mrs. Gummidge.
Miss Mowcher
Expert hairdresser. A friend Steerforth. She is very short. Mowcher contributes decisively to the capture of Littimer, who had stolen money to the owner before fleeing abroad.
Mister Chillip
The doctor who attends the birth of David. He announces to Betsey Trotwood that Clara's baby is a boy, which is a cause of great disappointment for the woman.
Rosa Dartle
Cousin of James Steerforth who lives with Steerforth's mother. She is secretly in love with Steerforth and despises Emily for having stolen him.
Mrs. Steerforth
Steerforth's mother. She is very proud, and loves and admires his son incredibly.
Mr. Strong
Headmaster of the school in Canterbury attended by David.
Anna Strong
Wife of Mr. Strong. Is suspected of betraying her husband with Jack Maldon, something which later proves unfounded.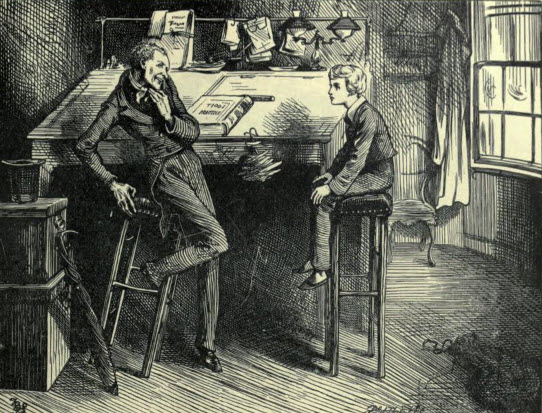 Jack Maldon
Childhood friend of Anne Strong. He is in love with Anna and tries to alienate her from her husband.
Mr. Mell
Schoolmaster at Salem House, the school that David attended during his childhood. Because of the revelations about his humble background by Steerforth, which in turn had been told by David, he is let go from the school, much to David's regret. He is heard from again at the end of the novel.
Sophy Crewler
Wife of Traddles. The daughter of a pastor with a large family, proves a good housewife and a lovely wife, content to live with the few possessions of her husband.
Littimer
Steerforth's treacherous butler. He appears to be a very respectable and righteous man yet facilitate's Steerforth's flight abroad with Emily.
Several celebrities took inspiration from the name of the characters in David Copperfield, including the hard rock band Uriah Heep and illusionist David Copperfield. The novel has been made into several films and television shows.