Bleak House
---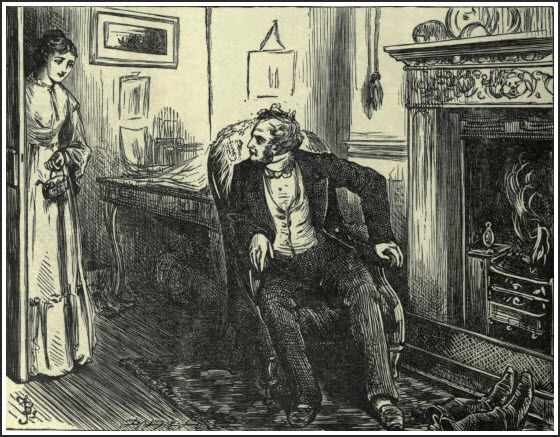 Bleak House
Bleak House was the ninth novel published by Charles Dickens, appearing in serialized form in twenty instalments between March 1852 and September 1853. Critics generally agree that this is one of the Dickens' most remarkable novels and his most complete. Bleak House contains a gallery of characters and a series of subplots unparalleled in the rest of his work. The story is told alternately in a narrator in first person, Esther Summerson, the heroine of the novel, and an omniscient narrator.
The story is rooted in a legal case called Jarndyce v. Jarndyce involving a disputed inheritance, a challenged will, large sums of money and land around Marr manor in south Yorkshire. In one way or another the court case affects each of the characters in the novel.
The Jarndyce case has been dragging on for generations and has been the ruin of almost everyone involved. Dickens had often used his writing to criticize aspects of Victorian society; in Bleak House, Dickens drew on his experiences as a law clerk to satirize the slow moving and inefficient legal system. The plot of the story is set amid the uncompromising slowness and the Byzantine character of the law and the Court of Justice (Chancery). It has been argued that the novel helped bring about reforms in the legal system.
John Jarndyce is the owner of an estate called Bleak House, which gives its name to the title. Intertwined with the main story line are many subplots involving Esther's life, as well as life on the neighboring estate owned by Sir Leicester Dedlock. There is also subplot involving an investigation into a murder, which seems to have mysterious ties to the court case.

An Awkward Proposal


Sir Leicester Dedlock and Lady Honoria Dedlock (his junior by more than twenty years) live in the country home of Chesney Wold, next to Bleak House. Unbeknownst to Sir Dedlock, Lady Dedlock had a love child with Captain Hawdon prior to her marriage. The child was Esther Summerson. But Lady Dedlock was deceived into believing that her daughter had died, and does not know of Esther.
Esther was brought up by Miss Barbary, sister of Lady Dedlock in a very Spartan manner. Esther does not know that Miss Barbary is actually her aunt, and believes that she is merely her godmother. When Miss Barbary dies, Mr. Jarndyce becomes her guardian and sends her off to study at Reading for 6 years, then brings her to live with him at Bleak House to act as governess to two children, Richard and Ada Clare Carston, who are cousins to each other
Ada and Richard are the beneficiaries (at least according to one version of the disputed will) of the inheritance which is the subject of the litigation, which has led to bitter infighting between the different factions of the Jarndyce family. According to another version of the will, John Jarndyce is the beneficiary.
Richard and Ada are in love with each other; their guardian John Jarndyce does not object, but notes that Richard suffers from an inconstant character and so insists that before he can become engaged to Ada, he must enter into a profession and stick to it. Richard, after a series of failed attempts (studying to become a doctor, a lawyer and finally a soldier), decides to use his knowledge in the legal field, to win the disputed inheritance. In this he is opposed by John, who sees the curse in case family.
Lady Dedlock is herself one of the possible beneficiaries under one of the many disputed variants of the will. When her husband's lawyer, Tulkinghorn, brings an affidavit dealing with the case to the house, Lady Dedlock faints when she sees the handwriting on the document, which causes Tulkinghorn to investigate the reason.
Tulkinghorn decides to track down the copyist who copied the affidavit (in an age before photocopying machines, all copies of legal documents were made by hand). He discovers that the man's name is an unfortunate named Nemo, who recently died in a rented apartment. Nemo was an opium addict and the only person who seems to know anything about him is vagabond named Jo.
Meanwhile Lady Dedlock is also trying to identify the scribe, and to that end, takes the identity of a French maid in their household, Mademoiselle Hortense. Thus disguised, Lady Dedlock convinces Jo to take her to Nemo's grave. Tulkinghorn is convinced that Lady Dedlock's secret may pose a danger to the reputation of his client and so he begins to spy on Lady Dedlock, sometimes using the services of the real maid Hortense (not who appears to hate her mistress.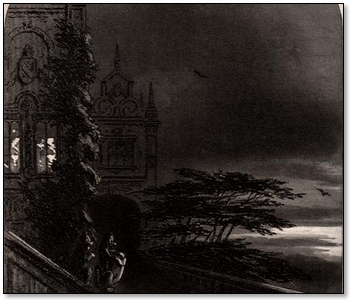 The Ghosts Walk
Esther and Lady Dedlock meet by chance at a Mass and then have a conversation at Chesney Wold. Initially the two do not realize their family connection, but Lady Dedlock soon understands that her abandoned daughter is not dead.
Esther now falls ill, apparently from the smallpox, and the illness leaves her permanently disfigured, and is cared for by Charley, a poor girl that she had saved from poverty and from whom she had probably contracted the disease. In a revealing conversation, Lady Dedlock confesses to Esther that she is her mother, but warns her, however, to keep this secret.
Esther survives the illness but has now lost her beauty. Meanwhile Richard meanwhile spends all his resources to bring to conclusion the case Jarndyce and Jarndyce, in favor of him and Ada. He becomes obsessed with the case, and on the advice of his lawyer named Vholes, Richard has broken off his relationship with John Jarndyce, whom he now believes to be his opponent in the court case.
Richard and Ada secretly marry and Richard spends all her money on legal expense. Ada also becomes pregnant.
Esther herself has a secret passion for Dr. Woodcourt, son of a family friend of John, who is also interested in her. Woodcourt, a ship's surgeon on various boat crossings to India, had met Esther before she was disfigured by the disease. On his return from the East, Woodcourt realizes that his feelings for Esther have not changed, but while he was away Esther had accepted a marriage proposal from her guardian, John Jarndyce.
Hortense and Tulkinghorn have now discovered Lady Dedlock's past. After a quiet but desperate confrontation with the lawyer, Lady Dedlock flees the house and leaves a letter to her husband, begging forgiveness. Tulkinghorn dismisses Hortense, who is no longer useful. Feeling abandoned by both Tulkington and Lady Dedlock, Hortense kills Tulkington and attempts to place the blame on Lady Dedlock. Sir Leicester, upon learning of the death of his faithful lawyer and the flight of his wife, suffers a terrible blow that forces him to bed, but he tries to communicate to communicate with Lady Dedlock and tell her that he forgives her and is waiting for her to come back.

John Jarndyce Releases Esther from her Engagement


Police Inspector Bucket, who has been investigating Nemo's death realizes that it is connected to the mystery of the Jarndyce case. Sir Leicester enlists Inspector Bucket to find Lady Dedlock. Although he suspects Lady Dedlock, Bucket arrests George Rouncewell, the last person to have been seen with Tulkinghorn the night of the murder and one of many people who had unfinished business with the deceased. Bucket is accompanied by Esther in his search for Lady Dedlock: they find her in the cemetery where Nemo is buried. It is revealed that Nemo was in fact Captain Hawdon. Unfortunately, she is already dead.
In the meantime, a last and final will is found which cancels all previous wills. It appears that the court case can now at last be concluded. The bulk of the inheritance will go to Richard and Ada.
John Jarndyce, meanwhile, frees Esther from the bond of engagement, understanding that she will be happier with Woodcourt. They all go to the final hearing: the litigation costs have consumed the entire amount of the inheritance and the court case can be concluded now that the estate is gone. Richard is hit very hard by the news and Dr. Woodcourt realizes that Richard is now in the last stages of tuberculosis. John goes to the bedside of Richard, despite being estranged for years. Richard asks for John's forgiveness and then passes away.
Shortly after Richard's death, Ada gives birth to a son, whom she names Richard, after his father. Mother and son are welcomed by John into his home. Esther and Woodcourt marry and go to live in Yorkshire, in a new Bleak House that John Jarndyce has given them. The newlyweds eventually have two children.
There are a number of other parallel stories and characters in the book. One of the most amusing involves the story of Caddy Jellyby and her mother, obsessed with philanthropy that makes her lose sight of the interests and needs of her own family while working for the good of the inhabitants of an African village called Borrioboola-Gha).