Dombey and Son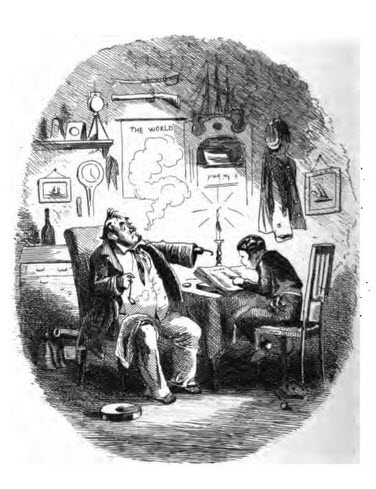 Dombey and Son is a novel by Dickens, issued in numbers, the first of which appeared in Oct., 1846. It was brought out in one volume in 1848. The original title was " Dealings with the Firm of Dombey and Son, Wholesale, Retail, and for Exportation." Dombey and Sons was part of a series of books written by Dickens to fulfill a book deal between himself and his new book publishers, who had advanced him a considerable sum of money against future royalties. The contractual arrangement called for Dickens to produce four books. The result was "Pictures from Italy", "The Cricket on the Hearth", "The Chimes" and finally "Dombey and Son" which were written while Dickens was on an extended tour of Europe.
Paul Dombey is a cold, unbending, pompous merchant, and a widower with two children - Paul and Florence. His chief ambition is to perpetuate the firm-name. He dreams of passing his business on to his son. Dombey dotes on his son, and neglects and mistreats his daughter.
The "son" in the title of the book is incapable of ever joining the firm. A sickly and odd child, Paul dies at the age of six. Dombey pours his resentment and anger out on his daughter, whom he pushes away despite her efforts to earn her father's love.
Eventually Dombey remarries, after literally acquiring his new wife from her father in a commercial transaction. Dombey is as bad a husband as he is a father and his marriage is loveless. His new bride hates Dombey and eventually runs off with Canker, his business manager. Dombey characteristically blames Florence for this reversal, and strikes her, causing Florence to run away as well.
Abandoned by everyone, Dombey loses his business and goes half insane, living in his decaying house. Dombey is eventually reconciled to his daughter, who always a doormat forgives her father.
Many critics have commented that Dombey and Sons is an ambitious but flawed novel; it is certainly not one of his most popular or well known. Nevertheless Dombey and Sons makes a powerful statement against arranged marriages and the relationship between fathers and daughters.