Fred Barnard
Fred Barnard (1846 - September 1896) was a noted illustrator, painter, and caricaturist. He is best remembered for his illustrations of the works of Charles Dickens.
Barnard was not one of the original Dickens illustrators, such as Phiz or Robert Seymour, but in 1871 he was retained by the publisher to illustrated the Household Edition of Dickens's works. Since Dickens' novels had already been illustrated by other renowned artists, Barnard set about creating illustrations of scenes and incidents that had not already been covered by his predecessors. In total, Barnard produced over 450 illustrations for the works of Dickens including Bleak House, A Tale of Two Cities, Sketches by Boz, Nicholas Nickleby, Barnaby Rudge, Dombey and Son and Martin Chuzzlewit.
Barnard's illustrations are widely regarded as superior to many of the original illustrations which accompanied the serialized works of Dickens when they were first published. This may be due to the fact that Barnard had the advantage of being able to read the entire work, and to better understand the plot and relationships between the characters he portrayed, whereas the original illustrators such as Phiz and Seymour had to produce their drawings in weekly installments in order to match the publication schedule of the magazine. Barnard also brought his encyclopedic knowledge of Dickens to his work, which often led to a deeper and more nuanced depiction of the characters.
Barnard often referred to himself as the "The Charles Dickens among black-and-white artists" on account of his massive output of illustrations, which paralleled the enormous literary output of the great author.
After his early work as a dickens illustrator, Barnard went on to build a successful career as a portrait painter for the British aristocracy. However in 1891 Barnard's oldest son Geoffrey died of a congenital heart defect, and Barnard's life and career went into a decline. He became addicted to alcohol and drugs, primarily laudanum and died tragically in a fire which started when his pipe ignited his bed sheets as he lay sleeping under the influence of drugs.
Here is a small gallery of illustrations of Charles Dickens's books by Fred Barnard.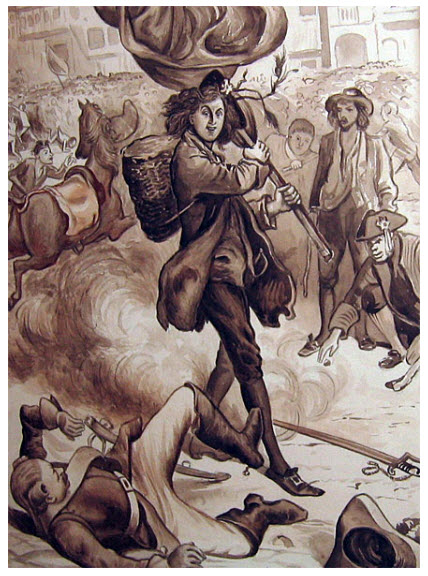 Barnaby Rudge
---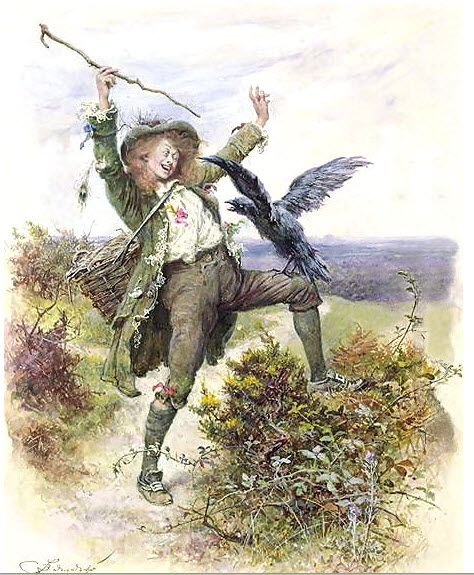 Barnaby Rudge and the Raven Grip
---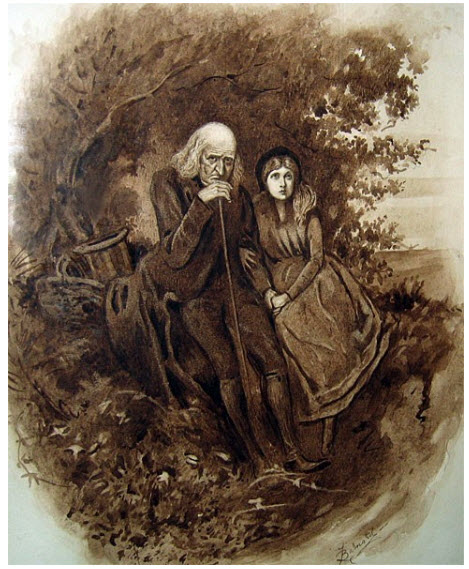 Little Nell and Her Grandfather
---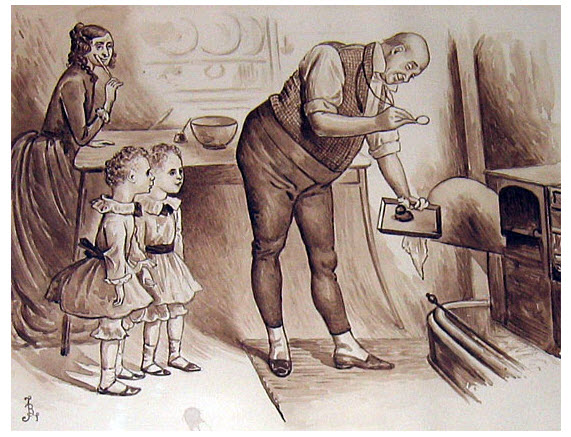 Mr. and Mrs. Micawber and the Twins From David Copperfield
---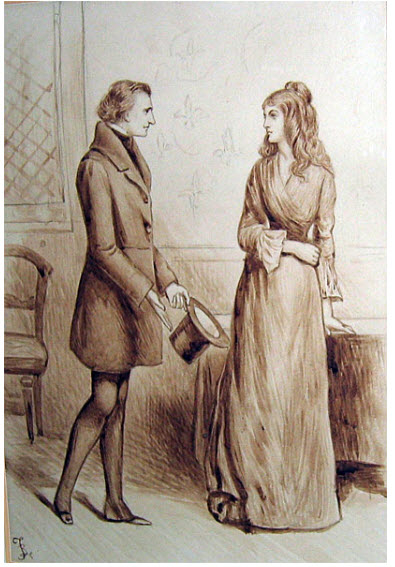 Mr. Carker and Edith Dombey
---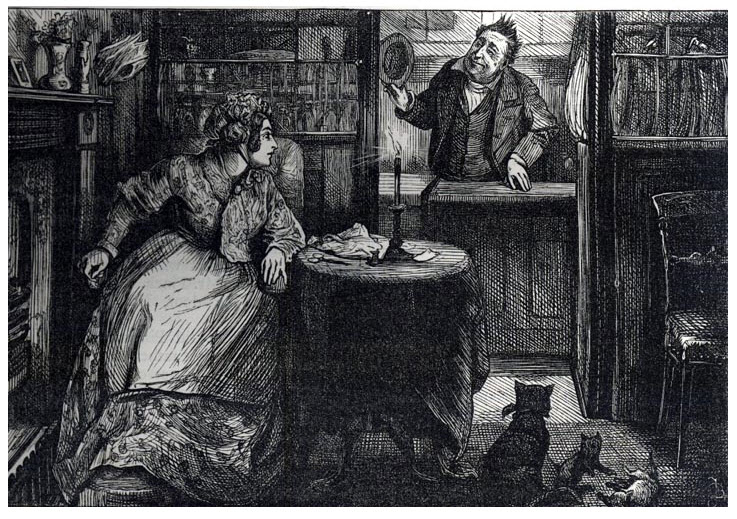 Mr. Pecksniff and Mrs. Lupin - from Martin Chuzzlwit
---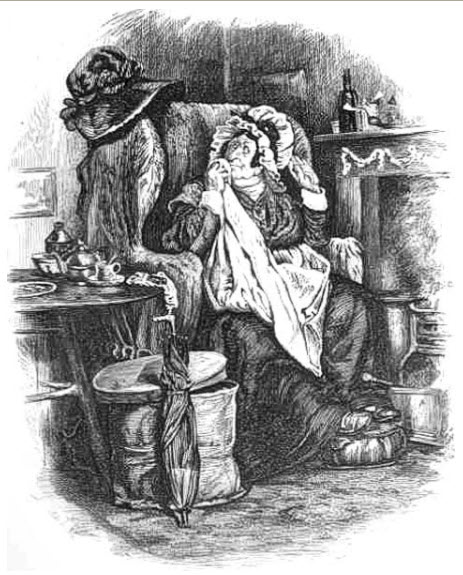 Mrs. Gamp - from Martin Chuzzlewit
---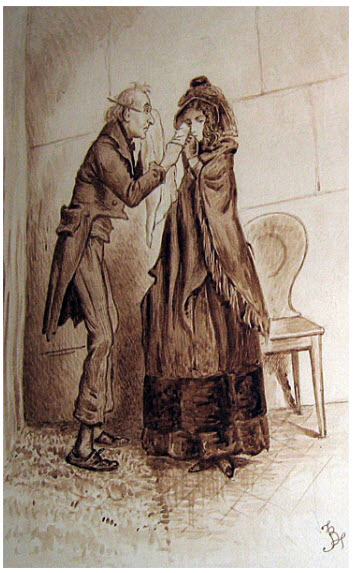 Newman Noggs and Kate Nickleby
---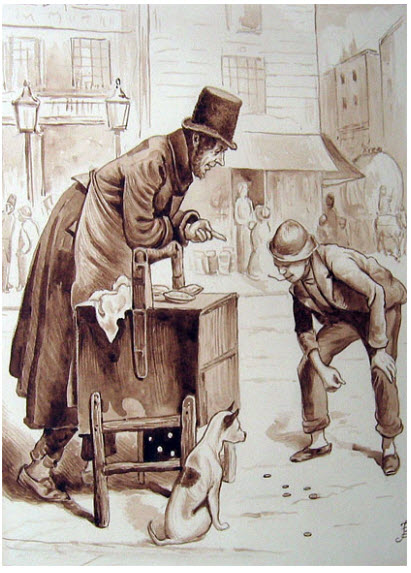 Rob the Grinder - from Dombey and Sons
---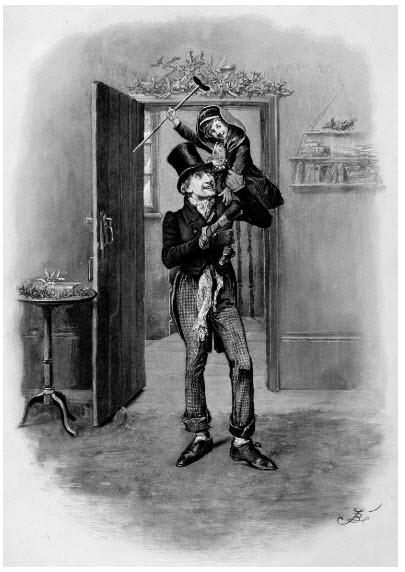 Tiny Tim
---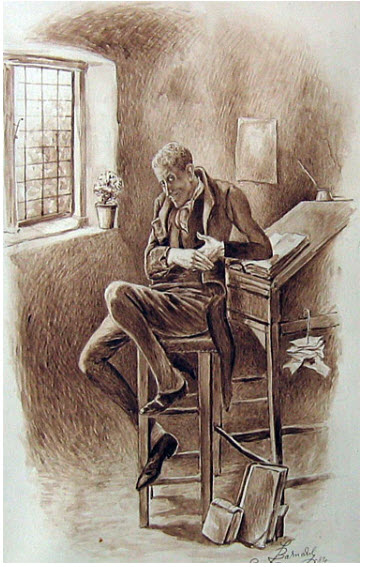 Uriah Heep from David Copperfield
---