This page presents a summary of the plot and characters of A Tale of Two Cities, a historical novel by Charles Dickens.
A Tale of Two Cities Summary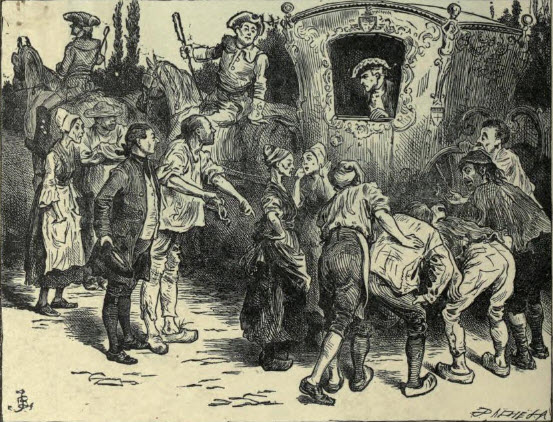 An Illustration from A Tale of Two Cities
A Tale of Two Cities is an historical romance by Charles Dickens set during the time of the French Revolution. The plot unfolds in France and England and is a melodramatic story, full of unlikely plot twists, involving many interrelated characters on both sides of the English channel during this very tumultuous period in history. The title of the book refers to London and England, the two cities.
A Tale of Two Cities was first published in 1859 and is considered one of Dickens' greatest commercial and critical successes.
Main Character in a Tale of Two Cities
The principal characters of the book are:
Dr. Manette -- a former prisoner of the Bastille under the monarchy before the French Revolution



Lucie Manette -- daughter of Dr. Manette and the chief heroine of the book. She is the love interest of Sydney Carton and Charles Darnay.



Jarvis Lorry -- an agent of the English banking firm of Tellson & Co., which has a branch in Paris.



Charles Darnay -- The Marquis St. Evremonde and later the husband of Lucie Manette. He is sentenced to die at the guillotine by French revolutionaries during the Terror.



Sydney Carton -- a lawyer's clerk who looks very similar to Charles Darnay.



Miss Pross -- the servant of Dr. Manette and Lucie.



Madame Defarge -- a French revolutionary



Monsieur DeFarge -- husband of Madame DeFarge and also a French revolutionary.



Plot of A Tale of Two Cities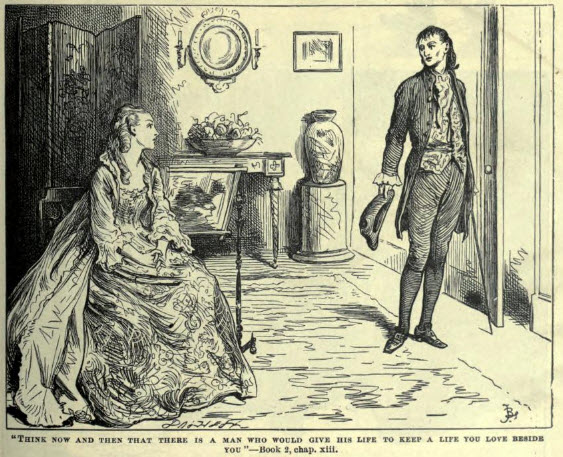 A Tale of Two Cities: Lucie Refuses Sydney Carton's Offer of Marriage
The novel begins a few years prior to the start of the French Revolution. Dr. Manette has just been freed from the Bastille where he has been held unjustly by the monarchist government for the last 18 years. Dr. Manette is living in the attic of a house owned by Madame and Monsieur DeFarge. Madame DeFarge spends every day knitting a scarf bearing strange symbols, which are later revealed to symbolize the names of hated members of the French nobility who are to be executed once the Revolution begins.
Jarvis Lorry, agent of the firm Tellson & Co., brings Lucie Manette over to Paris from England to meet her father, Dr. Manette, for the first time. The two had never met because of mysterious circumstances which had forced Lucie's mother to flee to England around the time that Dr. Manette was imprisoned. A happy reunion takes place between the elderly Dr. Manette and his daughter and then the two travel to England. On the boat crossing the Channel, they meet Charles Darnay.
Dr. Manette and Lucie settle in London, where they live in the company of their maid Miss Prosser, who is devoted to them. Years later Lucie and Dr. Manette are called to testify in a trial involving Charles Darnay, who has also been living in London and working as a teacher of languages. Darnay is on trial for treasonous activities. Darnay is accused of passing back and forth between England and France on secret business.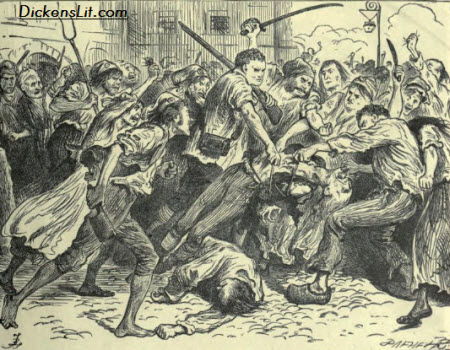 A Tale of Two Cities, The French Revolution
The Manettes testify that they met Darnay on the boat coming over from France, but Darnay is acquitted when his lawyer points to his own law clerk Sidney Jarvis, who bears a striking resemblance to the accused. Since the two men are so alike, the identification of the prisoner is shaken, and Darnay is set free.
Sidney Carton has a brilliant legal mind but is an alcoholic. He writes all of the cases for the lawyer he works for, and gets none of the credit.
After the trial both Sidney Carton and Charles Darnay became frequent callers at the house of Lucie and Dr. Manette. Both men were very interested in Lucie. Charles Darnay is in fact a French nobleman, and the nephew of Monseigneur the Marquis St. Evrémonde but he does not reveal his identity to Dr. Manette or Lucie because he knows that Dr. Manette hates the royalists due to having been persecuted and imprisoned by them.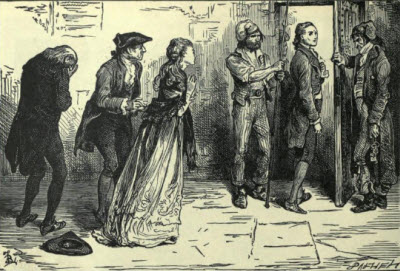 A Tale of Two Cities, Having Been Convicted Darnay is Led Away to Await His Execution
Charles Darnay returns home to France to visit his uncle the Marquis. While there, the Marquis's carriage runs over and kills a small child. The Marquis refuses to even apologize to the child's family despite the protestations of his nephew, Charles Darnay. The people, already enraged at the corruption of the aristocracy, murder the Marquis as retaliation. The child's father is later arrested and executed for the murder.
Charles Darnay then returned to London to ask Dr. Manette for permission to court Lucie. He attempts to tell Dr. Manette his true identity by Dr. Manette refuses, asking Darnay to wait until the morning before his marriage to Lucie to tell him. Meanwhile Sidney Carton also asks Lucie for her hand in marriage but Lucie refuses. Sidney Carton then tells Lucie to remember that there will always be one person willing to die for her.
Lucie and Darnay are married and in due course they have a daughter. Six years later the French Revolution begins. Darnay receives a letter from an old friend in Paris, who has been imprisoned by the Revolutionaries, asking Darnay for his help.
Darnay returns to France seeking to help his friend but he is himself imprisoned. Lucie and Dr. Manette then travel to France seeking to free Darnay. Dr. Manette, who has since learned the true identity of Darnay, feels that his long imprisonment at the hands of the Revolutionaries will earn him sympathy with the rebels and help secure Darnay's release.
After spending 15 months in jail, Darnay is in fact released, only to be re-arrested almost immediately for being a Royalist. This time, Darnay is convicted and is sentenced to die at the guillotine.
The events leading up to the trial and sentence of Darnay are somewhat unlikely and involve weird coincidences, something which is found often in the works of Charles Dickens. For example, Miss Prosser (who had also come to Paris) is shopping at the market with a man named Jerry Cruncher, when Cruncher suddenly runs into his long lost brother John Brasard. Brasard, under a different name, had previously worked as a spy of the English government and had accused Darnay of being a spy for the French in the first trial in which Lucie and Dr. Manette had testified. Now, Brasard was working for the Republican government. Miss Prosser and Cruncher are able to blackmail Brasard into cooperating with them because he fears exposure as a former agent of England, France's enemy.
At his trial, Darnay is convicted in part based on evidence consisting of a journal written by his father in law Dr. Manette, which had been hidden by Manette in his cell and left behind after he escaped. This journal was later uncovered by the Revolutionary authorities. Dr. Manette's journal details the secret crimes of the noble Evrémonde family including a young woman of humble birth and her brother. As a result Darnay is sentenced to death based on the ancestral crimes of his family.
Before the sentence of death can be carried out, Sidney Carton engineers Darnay's escape. With the help of the double agent Brasard, Carton drugs the guards and allows Darnay to escape. He then takes the place of his look alike and willingly allows himself to be executed for the sake of Lucie.
Meanwhile Madame DeFarge went to the lodgings of Dr. Manette and Lucie to denounce them to the revolutionaries. Only Miss Prosser remained, the others having already fled. Miss Prosser tried to prevent Madame DeFarge from entering Miss Prosser's room, in an effort to prevent DeFarge from discovering their escape. The enraged Madame DeFarge pulls out a pistol and in the ensuing struggle Madame DeFarge is killed by her own gun, but Miss Prosser is rendered deaf by the discharge.
Lucie and Darnay return safely to England and live happily ever after.