John Leech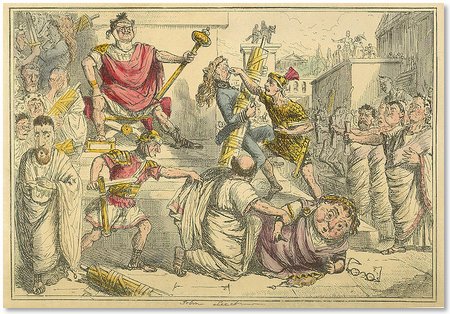 A Caricature by John Leech - from the Comic History of Rome
John Leech (London, August 29th 1817 - London, October 29 1864) was an English caricaturist and illustrator known for his illustrations of Charles Dickens' novels.
John Leech was born in London. His father, a native of Ireland, was the owner of the London Coffee House in Ludgate Hill. He was described by those who knew him as "a man of refined culture, a profound student of Shakespeare, and an absolute gentleman." Leeche's mother was a descendant of the family of Richard Bentley, a theologian an literary critic.
Leech's talent for drawing began to develop as a child. His artistic merit was first recognized by the sculptor John Flaxman, who visited the Leech household when John was three years old. Flaxman observed John sitting in his mother's knees and drawing intently. He remarked: "Do not let him be cramped with lessons in drawing; let his genius follow its own bent; he will astonish the world!" Leech's parents followed Flaxman's advice, and though they encouraged John's drawing, he did not receive formal lessons.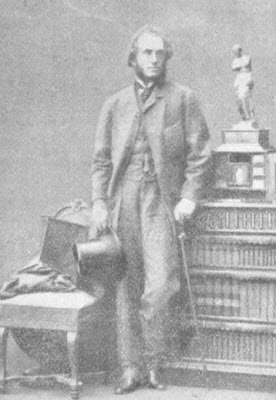 Despite a systematic art education, Leech soon developed into an excellent cartoonist. His drawings documented in humorous fashion the daily life of Londoners and also criticized the excesses of fashion.
Leech also illustrated numerous novels, sports books, almanacs, and produced over 50,000 hand drawings. His cartoons are filled with rawness and free from higher artistic aspirations. A selection of his drawings was published under the title: Pictures of life and character (new ed 1881).
Leech was educated at Charterhouse School, where William Makepeace Thackeray, his longtime friend, was also a student, and at the age of sixteen began studying to pursue a medical career at St Bartholomew's Hospital, where he won a scholarship for the accuracy and beauty of his anatomical drawings. However, Leech later decided to abandon his medical studies to devote himself fully and professionally to his art. At that time he began using the nickname "Blicky" to sign his works.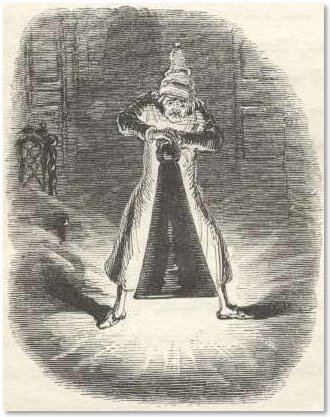 Leech's Illustrations for Dickens A Christmas Carol
When Leech was eighteen, he published his first work, a collection of comic character studies of London street life entitled "Etchings and Sketchings by A. Pen, Esq.". Leech then focused on drawing political caricatures and he was commissioned to draw some illustrations for "Bell's Life."
On the death of Robert Seymour, Leech applied unsuccessfully for the commission to illustrate Dickens' Pickwick Papers. This job was given to his rival "Phiz". However, Leech would later illustrate several other of Charles Dickens' novels.
In 1840, Leech began contributing illustrations to newspapers and periodicals, including Bentley's Miscellany, where George Cruikshank (another Dickens illustrator) had published his works for Jack Sheppard and Oliver Twist, and was outlining Guy Fawkes.
Leech collaborated with Cruikshank, the elderly master illustrator, by drawing illustrations for the Ingoldsby Legends and Stanley Thorn, and until 1847 he produced other works of various kinds. These were not his best work. The technique is not perfect and the drawings do not express the real capabilities of expressive art. For example, Leech's illustrations for "Richard Savage", are strongly influenced by the style of Cruikshank, and those for "The Dance Hall at Stamford" by earlier work by Hablot Browne (Phiz).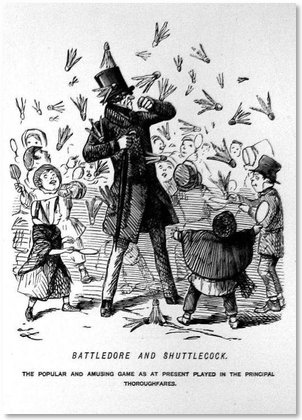 A Satirical Caricature by John Leech
In 1845, Leech illustrated the new Shilling Magazine. His work for this magazine was especially designed to be printed in color, a novelty at the time. Leech's work now became more original and during this period he reached his full artistic potential.
Around this time, Leech was also commissioned to illustrated several works by Charles Dickens, which are regarded as some of his best works. Some of his most successful works are four magnificent illustrations for the story "A Christmas Carol (1843) by Charles Dickens, the designs for the Comic History of England (1847-1848) [1], and those for Comic History of Rome (1852).
In 1841 Leech began to work with Punch magazine, a relationship that lasted until his death. His drawings for the magazine are some of his most famous and admired works.
In addition to his work on the weekly editions of Punch Magazine, Leech contributed to an almanac published by the same magazine as well as pocket editions of the Punch. He also contributed numerous illustrations to "A Little Tour in Ireland" (1859). This book is notable because it contains some of Leech's most successful and inspired drawings.
In 1862 Leech put on a successful exhibition of his drawings for Punch magazine. His drawings were enlarged using a new mechanical process and then colored with oil paint by the artist himself, with the help and assistance of his friend John Everett Millais.