The Pickwick Papers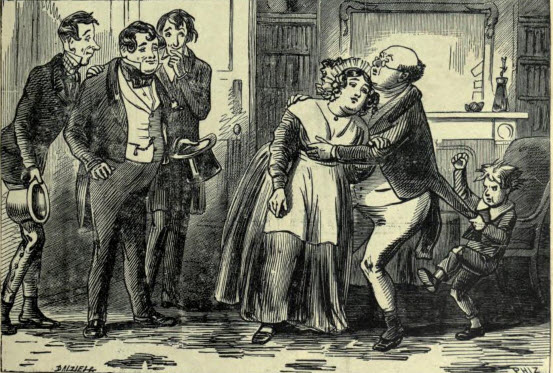 The Pickwick Papers (The Posthumous Papers of the Pickwick Club, shortened to The Pickwick Papers, 1836) was the first novel by English writer Charles Dickens. It is considered a masterpiece of British literature.
Summary and Publication History
The novel was published as a serial, issued in instalments, as was common with many other works at the time. Dickens was commissioned to write the book by his publisher, who originally wanted Dickens to merely provide the text to complement illustrations by Robert Seymour, who had proposed to draw a series of illustrations surrounding the comic adventures of the members of a sporting club. However, Dickens indicated that he knew nothing about hunting and other sports activities, and so he redefined the work.
The original concept of a group of characters experiencing comical adventures was retained, but in Dickens' version the characters belonged to the Pickwick Club, named after its founder and perpetual president Samuel Pickwick. The objective of the club is to explore life and to this end, Pickwick and the other members of the Club make journeys out of London to various parts of England, meeting quaint and bizarre character along the way. Some critics have seen similarities between the Pickwick Papers and other picaresque novels such as Don Quixote,
Robert Seymour was relegated to a secondary role, and now instead of Dickens providing the text to illustrations created by Seymour, Seymour was required to illustrate Dickens's writing. Only part way through the publication of the book, Seymour committed suicide, apparently despondent over a number of reverses including his lack of creative control over the Pickwick Papers. A controversy developed as to whether Seymour ought to have been credited with the idea for the Pickwick Papers, but Dickens and his publisher denied that Seymour had any meaningful input.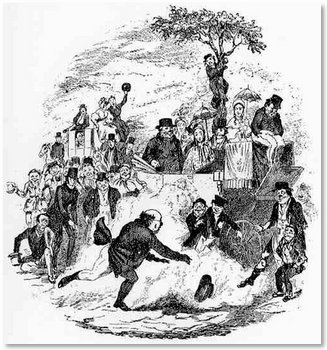 Mr Pickwick Chases his Hat - Illustration by
Robert Seymour
The Pickwick Papers became a publishing phenomenon. Readers eagerly awaited each new instalment; those who could afford to buy a copy would read it to their friends and relatives who could not. The success of the book was due to Dickens' creation of a cast of eccentric, humorous characters as well as his nostalgic portrait of England which contrasted with the cynical reality of the time.
The Pickwick Papers was published in 19 episodes spread over 20 months; the last instalment was of double length and cost two shillings since Dickens had skipped the May 1837 issue due to the death of his sister, Mary Hogarth. Each instalment was usually published at the end of the month.
As the author's first novel, The Pickwick Papers had a somewhat troubled history: the first two issues included four illustrations by Robert Seymour and 24 pages of text. After the suicide of the artist, the latter was replaced by RW Buss for the third instalment and the composition of the editions was changed to two illustrations and two pages of text each. However, Buss did not like the work and so he was replaced in turn by Hablot Knight Browne (Phiz) for the fourth instalments. This was the beginning of a very fruitful collaboration between Phiz and Dickens; Phiz continued to work for the author for over 23 years.
The Pickwick Papers describes the travels of Mr. Samuel Pickwick, founder of the Pickwick Club, with his friends Nathaniel Winkle, Augustus Snodgrass and Tracy Tupman through early nineteenth century England. The book features a cast of bizarre characters and situations.
There is no overriding plot to the novel, but rather a series of somewhat connected vignettes involving the characters. One story involves a lawsuit between Mr. Pickwick and his landlady, who, due to a misunderstanding, sues Mr. Pickwick for breach of promise to marry. The landlady wins the lawsuit and is awarded damages, but Mr. Pickwick stubbornly refuses to pay her and so is imprisoned in the Marshalsea, the prison for debtors ( a recurring theme in Dickens's works - for example Little Dorrit - as well as in Dickens own family history). Other characters are more lucky in love: Augustus Snodgrass falls in love with the daughter of Mr. Wardle, a jovial and wealthy gentleman of peasant origins whom the travelers encounter during a trip. And then there are other romantic pairings, some successful, some mercenary, and always comical.
Pickwick Papers Characters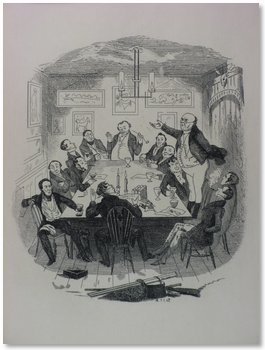 Mr. Pickwick Addresses the Club
Main characters of the Pickwick Papers
* Samuel Pickwick -- the novel's protagonist, an elderly man, portly and jovial, founder of the Pickwick Club.

* Augustus Snodgrass: member of the club. He considers himself a poet, though he has never written anything. Snodgrass marries, Emily, the daughter of Mr. Wardle.

* Nathaniel Winkle: a friend of Mr. Pickwick and a member of the Pickwick Club. He is an awkward young man who deludes himself into believing that he is a sportsman, though he is anything but. At the end of the novel, Winkle marries Arabella, a friend of Emily.

* Tracy Tupman: Another member of the Pickwick Club. He is an elderly, fat, gentleman who considers himself a womanizer. He falls in love with Rachel Wardle, but does not end up marrying her because Rachael runs off with Jingle.

* Sam Weller: an honest young man, with Cockney a great sense of humour and a way of mangling descriptions and proverbs that came to be known as "wellerisms". When the Pickwickians first meet Weller, he is a shoe shine boy at a local inn; later he becomes Mr. Pickwick's valet as well as his friend. Towards the end of the book, Sam marries Mary, a pretty waitress.
Other Characters
* Mr. Wardle: a jovial gentleman farmer. He hosts the members of the "Pickwick Club" at his home several times.

* Joe: a fat boy, and Mr. Wardle's servant. He is always falling asleep no matter what time of day it is, or what is going on around him. Dickens' description of Joe's sleep problem led to a real medical condition being named after him: Obesity hypoventilation syndrome (also known as Pickwickian syndrome)

* Jingle: A con man, and the villain of the novel. He frequently deceives Mr. Pickwick and his friends, seduces Rachel Wardle, for her money, but is then imprisoned in the Marshalsea. Mr. Pickwick meets Jingle when he too is confined there and finds Jingle sick and almost too weak to walk. Mr. Pickwick has pity on him.

* Job Trotter: Jingle's servant, and just as dishonest as his master. He hides his deviousness behind a mask of meekness.

* Emily: lovely daughter of Mr. Wardle and, later, wife of Mr. Snodgrass.

* Arabella: friend Emily, married Nathaniel Winkle.

* Rachel Wardle: sister of Mr. Wardle. She is first courted by Mr. Tupman, and then by Jingle. She elopes with Jingle, who abandons her.

* Mary: an attractive servant who marries Sam Weller.

* Miss Bardle: Mr. Pickwick's landlady. She mistakenly believes that Mr. Pickwick has proposed marriage and when he does not keep his "promise" she successfully sues him for breach of promise to marry. Mr. Pickwick refuses to pay her and is imprisoned for debt in the Marshalsea.

The Pickwick Papers Video


The Pickwick Papers was so successful that rival publishers put out bootleg editions, often adding unauthorized illustrations by other artists in hopes of improving sales. Over 350 of these illustrations were collected by Joseph Grego and published in 1899 as Pictorial Pickwickiania. The Pickwick Papers also spawned many derivative works: there were theatrical performances, and Sam Weller joke books. In 1913, The Pickwick papers was made into a short silent film.
Dickens himself seems to have been fond of his characters. Mr Pickwick, Sam Weller, and Weller Senior also appear in Dickens's serial, Master Humphrey's Clock. In 1841, Dickens arranged for the publication of an anthology titled The Pic-Nic Papers which featured short pieces by various authors. Dickens wrote the introduction and one the stories, "The Lamplighter's Story." The profits from the book were donated to the widow and children of publisher John Marcone, who had died unexpectedly in 1837.
Pickwick Papers Resources