This page presents a summary of the plot and characters of Oliver Twist, a novel by Charles Dickens.
Oliver Twist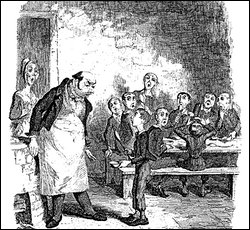 Oliver Twist: "Please, Sir, I want some more."
Oliver Twist (Full Title: Oliver Twist, Or, The Parish Boy's Progress) was the second novel published by Charles Dickens. It was first published in serialized instalments in the monthly magazine Bentley's Miscellany from February 1837 to April 1839, with illustrations by George Cruikshank.
Oliver Twist is one the most famous and influential work of Dickens: it was the first novel in English to have a boy as the protagonist and one of the first examples of the social novel. It was also unique at the time for its un-romanticized portrayal of the lives of criminals and the poor. With irreverent black humor, the novel examines nineteenth-century English society's ills: poverty, child labor, urban crime, and the inherent hypocrisy of Victorian culture.

Oliver Twist Video


The subtitle of Oliver Twist, "The Parish Boy's Progress", is a reference to the Christian allegory, The Pilgrim's Progress written by John Bunyan. The optimistic tone of Bunyan's work contrasts with that of Oliver Twist. It is likely that Dickens intended to also refer to parodies by William Hogarth, A Rake's Progress (The career of a libertine) and A Harlot's Progress (The career of the prostitute).
Oliver Twist has been made into many films and television adaptations. The most famous adaptations for the screen are David Lean's Oliver Twist and film by the same name by Roman Polanski. In 1988 Walt Disney Pictures produced an animated film inspired by the novel, Oliver & Company. The novel also gave rise to a highly successful British musical, Oliver!.
Oliver Twist Plot Summary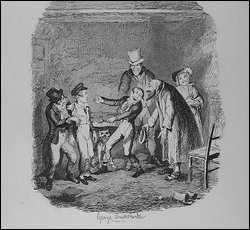 Oliver is Taken in by Fagin and his Gang
Oliver is an orphan who lives until the age of nine in a poorhouse, where he goes hungry and suffers abuse by the Director, Mr. Bumble. The classic scene in which the half starved Oliver begs for some more food and is viciously denied by the obese Mr. Bumble exemplifies the inequity of Victorian society.
Oliver is then sent to work at a funeral home. Here, too, he is treated very badly. One day Oliver escapes and flees to London, where he gets involved with a gang of thieves and pickpockets headed by Fagin, a satanic character and corrupter of young boys.
Oliver now begins an underground, nocturnal, life together with his companions: Fagin, the Artful Dodger, Claypole, and most importantly Nancy, who is a thief and a prostitute but basically a good person who has been led astray by Fagin and her lover, the violent Bill Sikes. Nancy, affectionately known to Fagin's boys as "Nance" and Bill Sykes were both old pupils of Fagin. Oliver also comes under the influence of the mysterious Monks, another thief, who has some unknown connection to Oliver. It is later revealed that Monks has paid Fagin to keep Oliver in his clutches and turn him into a thief, as part of Monks' secret plan to destroy him.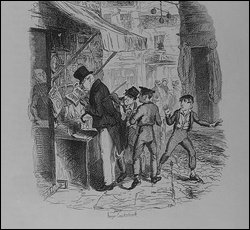 Oliver Twist Learning the Tricks
of the Pickpocket's Trade from the Artful Dosdger
One day the gang robs Mr. Brownlow, and Oliver takes the opportunity to run away from the group and is taken in by Mr. Brownlow. However he is then recaptured by the gang of thieves and persuaded to work as a thief by the mysterious and troubling Monks. But Oliver's first mission goes badly: he is sent to rob the house of Mrs. Maylie and her adopted granddaughter, Rose, but is injured during the mission. Oliver is treated by Mrs. Maylie and Rose who show compassion towards the little thief.
Fagin, with the help of Monks, tries to recover Oliver but is thwarted. Fagin's gang is broken up by the police and Fagin is arrested. Sikes kills Nancy in a moment of anger over her betrayal of the gang, but is himself killed while trying to escape.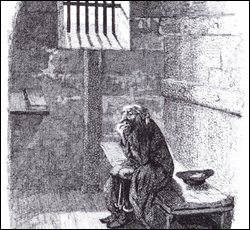 Fagin awaiting his fate
Oliver's true origins are eventually discovered. Mr. Brownlow turns out to be an old friend of Oliver's father, and Monks is actually Oliver's half brother. Rose is actually Oliver's aunt and his deceased-mother's sister.
Ever charitable, Oliver agrees to give his inheritance to Monks so that he can start over. Monks goes to America but soon squanders his money and returns to a life of crime. Oliver also shows compassion towards Fagin and goes to see him in jail on the eve of his execution.
Everything ends well: Oliver is adopted by Mr. Brownlow. Claypole and the Artful Dodger leave their life of crime; Claypole becomes a respectable farmer and the Artful Dodger goes to work as a police informer.