George Cruikshank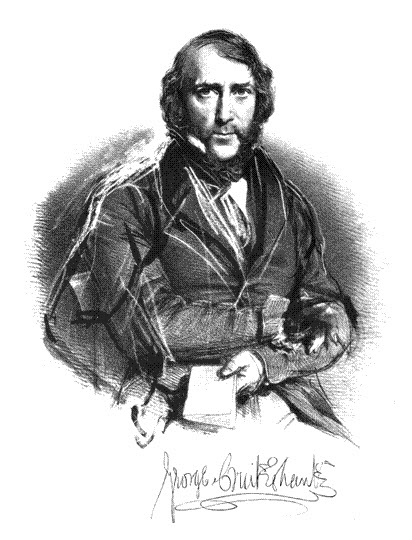 George Cruikshank
George Cruikshank (1792-1876) was a Victorian Era illustrator, cartoonist and political satire. He enjoyed immense popularity, particularly as a political cartoonist and as a humorist. He had a prodigious output, creating tens of thousands of drawings and illustrations for all of the major magazines and book publishers of the time.
Cruikshank illustrated two of Dickens' most commercially successful books: Sketches by Boz, and Oliver Twist. Initially Cruikshank and Dickens were friends but later they had a falling out as Cruikshank became a teetotaler and began campaigning against alcohol consumption, and also adopted conservative political and social views which Dickens found obnoxious.
The relationship between Cruikshank and Dickens deteriorated further in the 1860s when Cruikshank began to claim publicly that he was the originator of Oliver Twist, alleging that Dickens had based his book on Cruikshank's illustrations and not the other way around. In 1872 Cruikshank published a pamphlet entitled the Artist and the Author in which he repeated these claims and also expanded them to claim authorship of several works by William Ainsworth, a very popular novelist at the time, whose works have now largely been forgotten. Most critics and historians reject Cruikshank's claims.
Indeed Cruikshank's claims to be the originator of Oliver Twist does seem farfetched since Cruikshank is not known to have written anything significant under his own name. The idea that he could have developed a literary masterpiece such as Oliver twist seems inconsistent with the fact that Cruikshank's artistic talents lay exclusively in illustration. It is possible that Cruikshank may have made some suggestions to Dickens on the plot of the novel, but his contribution was likely minor.
Whatever Cuirkshank's role may have been in the writing of Oliver Twist, he certainly contributed to the look and feel of the novel by providing some of the best illustrations. Here are some of Cruikshank's best illustrations from Oliver Twist as well as Sketches by Boz