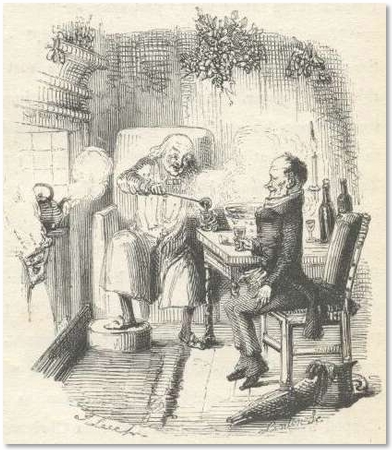 Illustrated Edition of A Christmas Carol
Here you will find an illustrated edition of Dickens' Chistmas Carol that you can read online.
A Christmas Carol has never been out of print since it was first published in 1843 and now the classic story about Christmas in Victorian England has entered the digital age. You can read the full text of the Dickens novella together with great illustrations by John Leech.
device of a man or woman being visited by ghosts whose task is to show the person the errors of their ways has become a cliche on movies and television. Almost every television series has featured a variation or retelling of the Christmas Carol, and a number of movies have been made which, while they alter the theme or ped "Ghosts of Christmas Past" in which the protagonist is shown the error of his womanizing ways by the intervention of ghosts, and is then redeemed when he reclaims his true love.
While "A Christmas Carol" has become somewhat of a cliche it is important to note that when it was originally published, the work was in fact a fresh and innovative Christmas story. The title itself offers two clues to the Carol's then unique qualities: it is said to be a Carol, but in prose, and it is a Christmas ghost story. Ghosts and Christmas were not usually associated with each other before Dickens. Dickens success lies in part in creating a new tradition for Christmas.