---
BIOGRAPHY OF CHARLES DICKENS: CHAPTER XI.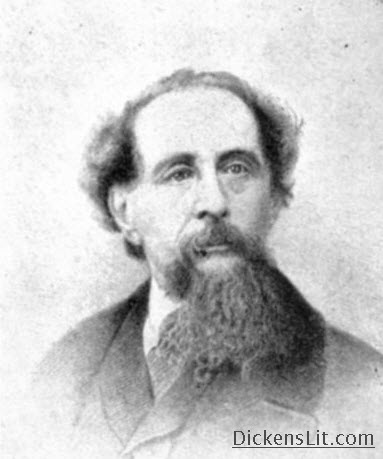 Charles Dickens at Age 51
Chancery had occupied a prominent place in "Bleak House." Philosophical radicalism occupied the same kind of position in "Hard Times," which was commenced in the number of Household Words for the 1st of April, 1854. The book, when afterwards published in a complete form, bore a dedication to Carlyle; and very fittingly so, for much of its philosophy is his. Dickens, like Kingsley, and like Mr. Ruskin and Mr. Froude, and so many other men of genius and ability, had come under the influence of the old Chelsea sage.[25] And what are the ideas which "Hard Times" is thus intended to popularize? These: that men are not merely intellectual calculating machines, with reason and self-interest for motive power, but creatures possessing also affections, feelings, fancy--a whole world of emotions that lie outside the ken of the older school of political economists. Therefore, to imagine that they can live and flourish on facts alone is a fallacy and pernicious; as is also the notion that any human relations can be permanently established on a basis of pure supply and demand. If we add to this an unlimited contempt for Parliament, as a place where the national dustmen are continually stirring the national dust to no purpose at all, why then we are pretty well advanced in the philosophy of Carlyle. And how does Dickens illustrate these points? We are at Coketown, a place, as its name implies, of smoke and manufacture. Here lives and flourishes Thomas Gradgrind, "a man of realities; a man of facts and calculations;" not essentially a bad man, but bound in an iron system as in a vice. He brings up his children on knowledge, and enlightened self-interest exclusively; and the boy becomes a cub and a mean thief, and the girl marries, quite without love, a certain blustering Mr. Bounderby, and is as nearly as possible led astray by the first person who approaches her with the language of gallantry and sentiment. Mr. Bounderby, her husband, is, one may add, a man who, in mere lying bounce, makes out his humble origin to be more humble than it is. On the other side of the picture are Mr. Sleary and his circus troupe; and Cissy Jupe, the daughter of the clown; and the almost saintly figures of Stephen Blackpool, and Rachel, a working man and a working woman. With these people facts are as naught, and self-interest as dust in the balance. Mr. Sleary has a heart which no brandy-and-water can harden, and he enables Mr. Gradgrind to send off the wretched cub to America, refusing any guerdon but a glass of his favourite beverage. The circus troupe are kindly, simple, loving folk. Cissy Jupe proves the angel of the Gradgrind household. Stephen is the victim of unjust persecution on the part of his own class, is suspected, by young Gradgrind's machinations, of the theft committed by that young scoundrel, falls into a disused pit as he is coming to vindicate his character, and only lives long enough to forgive his wrongs, and clasp in death the hand of Rachel--a hand which in life could not be his, as he had a wife alive who was a drunkard and worse. A marked contrast, is it not? On one side all darkness, and on the other all light. The demons of fact and self-interest opposed to the angels of fancy and unselfishness. A contrast too violent unquestionably. Exaggeration is the fault of the novel. One may at once allow, for instance, that Rachel and Stephen, though human nature in its infinite capacity may include such characters, are scarcely a typical working woman and working man. But then neither, heaven be praised, are Coupeau the sot, and Gervaise the drab, in M. Zola's "Drink"--and, for my part, I think Rachel and Stephen the better company.
"Sullen socialism"--such is Macaulay's view of the political philosophy of "Hard Times." "Entirely right in main drift and purpose"--such is the verdict of Mr. Ruskin. Who shall decide between the two? or, if a decision be necessary, then I would venture to say, yes, entirely right in feeling. Dickens is right in sympathy for those who toil and suffer, right in desire to make their lives more human and beautiful, right in belief that the same human heart beats below all class distinctions. But, beyond this, a novelist only, not a philosopher, not fitted to grapple effectively with complex social and political problems, and to solve them to right conclusions. There are some things unfortunately which even the best and kindest instincts cannot accomplish.
The last chapter of "Hard Times" appeared in the number of Household Words for the 12th of August, 1854, and the first number of "Little Dorrit" came out at Christmas, 1855. Between those dates a great war had waxed and waned. The heart of England had been terribly moved by the story of the sufferings and privations which the army had had to undergo amid the snows of a Russian winter. From the trenches before Sebastopol the newspaper correspondents had sent terrible accounts of death and disease, and of ills which, as there seemed room for suspicion, might have been prevented by better management. Through long disuse the army had rusted in its scabbard, and everything seemed to go wrong but the courage of officers and men. A great demand arose for reform in the whole administration of the country. A movement, now much forgotten, though not fruitless at the time, was started for the purpose of making the civil service more efficient, and putting John Bull's house in order. "Administrative Reform," such was the cry of the moment, and Dickens uttered it with the full strength of his lungs. He attended a great meeting held at Drury Lane Theatre on the 27th of June, in furtherance of the cause, and made what he declared to be his first political speech. He spoke on the subject again at the dinner of the Theatrical Fund. He urged on his friends in the press to the attack. He was in the forefront of the battle. And when his next novel, "Little Dorrit," appeared, there was the Civil Service, like a sort of gibbeted Punch, executing the strangest antics.
But the "Circumlocution Office," where the clerks sit lazily devising all day long "how not to do" the business of the country, and devote their energies alternately to marmalade and general insolence,--the "Circumlocution Office" occupies after all only a secondary position in the book. The main interest of it circles round the place that had at one time been almost a home to Dickens. Again he drew upon his earlier experiences. We are once more introduced into a debtors' prison. Little Dorrit is the child of the Marshalsea, born and bred within its walls, the sole living thing about the place on which its taint does not fall. Her worthless brother, her sister, her father--who is not only her father, but the "father of the Marshalsea"--the prison blight is on all three. Her father especially is a piece of admirable character-drawing. Dickens has often been accused of only catching the surface peculiarities of his personages, their outward tricks, and obvious habits of speech and of mind. Such a study as Mr. Dorrit would alone be sufficient to rebut the charge. No novelist specially famed for dissecting character to its innermost recesses could exhibit a finer piece of mental analysis. We follow the poor weak creature's deterioration from the time when the helpless muddle in his affairs brings him into durance. We note how his sneaking pride seems to feed even on the garbage of his degradation. We see how little inward change there is in the man himself when there comes a transformation scene in his fortunes, and he leaves the Marshalsea wealthy and prosperous. It is all thoroughly worked out, perfect, a piece of really great art. No wonder that Mr. Clennam pities the child of such a father; indeed, considering what a really admirable woman she is, one only wonders that his pity does not sooner turn to love.
"Little Dorrit" ran its course from December, 1855, to June, 1857, and within that space of time there occurred two or three incidents in Dickens' career which should not pass unnoticed. At the first of these dates he was in Paris, where he remained till the middle of May, 1856, greatly fêted by the French world of letters and art; dining hither and thither; now enjoying an Arabian Nights sort of banquet given by Emile de Girardin, the popular journalist; now meeting George Sand, the great novelist, whom he describes as "just the sort of woman in appearance whom you might suppose to be the queen's monthly nurse--chubby, matronly, swarthy, black-eyed;" then studying French art, and contrasting it with English art, somewhat to the disadvantage of the latter; anon superintending the translation of his works into French, and working hard at "Little Dorrit;" and all the while frequenting the Paris theatres with great assiduity and admiration. Meanwhile, too, on the 14th of March, 1856, a Friday, his lucky day as he considered it, he had written a cheque for the purchase of Gad's Hill Place, at which he had so often looked when a little lad, living penuriously at Chatham--the house which it had been the object of his childish ambition to win for his own.
So had merit proved to be not without its visible prize, literally a prize for good conduct. He took possession of the house in the following February, and turned workmen into it, and finished "Little Dorrit" there. At first the purchase was intended mainly as an investment, and he only purposed to spend some portion of his time at Gad's Hill, letting it at other periods, and so recouping himself for the interest on the £1,790 which it had cost, and for the further sums which he expended on improvements. But as time went on it became his hobby, the love of his advancing years. He beautified here and beautified there, built a new drawing-room, added bedrooms, constructed a tunnel under the road, erected in the "wilderness" on the other side of the road a Swiss châlet, which had been presented to him by Fechter, the French-English actor, and in short indulged in all the thousand and one vagaries of a proprietor who is enamoured of his property. The matter seems to have been one of the family jokes; and when, on the Sunday before his death, he showed the conservatory to his younger daughter, and said, "Well, Katey, now you see positively the last improvement at Gad's Hill," there was a general laugh. But this is far on in the story; and very long before the building of the conservatory, long indeed before the main other changes had been made, the idea of an investment had been abandoned. In 1860 he sold Tavistock House, in London, and made Gad's Hill Place his final home.
Even here, however, I am anticipating; for before getting to 1860 there is in Dickens' history a page which one would willingly turn over, if that were possible, in silence and sadness. But it is not possible. No account of his life would be complete, and what is of more importance, true, if it made no mention of his relations with his wife.
For some time before 1858 Dickens had been in an over-excited, nervous, morbid state. During earlier manhood his animal spirits and fresh energy had been superb. Now, as the years advanced, and especially at this particular time, the energy was the same; but it was accompanied by something of feverishness and disease. He could not be quiet. In the autumn of 1857 he wrote to Forster, "I have now no relief but in action. I am become incapable of rest. I am quite confident I should rust, break, and die if I spared myself. Much better to die doing." And again, a little later, "If I couldn't walk fast and far, I should just explode and perish." It was the foreshadowing of such utterances as these, and the constant wanderings to and fro for readings and theatricals and what not, that led Harriet Martineau, who had known and greatly liked Dickens, to say after perusing the second volume of his life, "I am much struck by his hysterical restlessness. It must have been terribly wearing to his wife." On the other hand, there can be no manner of doubt that his wife wore him. "Why is it," he had said to Forster in one of the letters from which I have just quoted, "that, as with poor David (Copperfield), a sense comes always crushing on me now, when I fall into low spirits, as of one happiness I have missed in life, and one friend and companion I have never made?" And again: "I find that the skeleton in my domestic closet is becoming a pretty big one." Then come even sadder confidences: "Poor Catherine and I are not made for each other, and there is no help for it. It is not only that she makes me uneasy and unhappy, but that I make her so too, and much more so. She is exactly what you know in the way of being amiable and complying; but we are strangely ill-assorted for the bond there is between us.... Her temperament will not go with mine." And at last, in March, 1858, two months before the end: "It is not with me a matter of will, or trial, or sufferance, or good humour, or making the best of it, or making the worst of it, any longer. It is all despairingly over." So, after living together for twenty years, these two went their several ways in May, 1858. Dickens allowed to his wife an income of £600 a year, and the eldest son went to live with her. The other children and their aunt, Miss Hogarth, remained with Dickens himself.
Scandal has not only a poisonous, but a busy tongue, and when a well-known public man and his wife agree to live apart, the beldame seldom neglects to give her special version of the affair. So it happened here. Some miserable rumour was whispered about to the detriment of Dickens' morals. He was at the time, as we have seen, in an utterly morbid, excited state, sore doubtless with himself, and altogether out of mental condition, and the lie stung him almost to madness. He published an article branding it as it deserved in the number of Household Words for the 12th of June, 1858.
So far his course of action was justifiable. Granted that it was judicious to notice the rumour at all, and to make his private affairs the matter of public comment, then there was nothing in the terms of the article to which objection could be taken. It contained no reflection of any kind on Mrs. Dickens. It was merely an honest man's indignant protest against an anonymous libel which implicated others as well as himself. Whether the publication, however, was judicious is a different matter. Forster thinks not. He holds that Dickens had altogether exaggerated the public importance of the rumour, and the extent of its circulation. And this, according to my own recollection, is entirely true. I was a lad at the time, but a great lover of Dickens' works, as most lads then were, and I well remember the feeling of surprise and regret which that article created among us of the general public. At the same time, it is only fair to Dickens to recollect that the lying story was, at least, so far fraught with danger to his reputation, that Mrs. Dickens would seem for a time to have believed it; and further, that Dickens occupied a very peculiar position towards the public, and a position that might well in his own estimation, and even in ours, give singular importance to the general belief in his personal character.
This point will bear dwelling upon. Dickens claimed, and claimed truly, that the relation between himself and the public was one of exceptional sympathy and affection. Perhaps an illustration will best show what that kind of relationship was. Thackeray tells of two ladies with whom he had, at different times, discussed "The Christmas Carol," and how each had concluded by saying of the author, "God bless him!" God bless him!--that was the sort of feeling towards himself which Dickens had succeeded in producing in most English hearts. He had appealed from the first and so constantly to every kind and gentle emotion, had illustrated so often what is good and true in human character, had pleaded the cause of the weak and suffering with such assiduity, had been so scathingly indignant at all wrong; and he had moreover shown such a manly and chivalrous purity in all his utterance with regard to women, that his readers felt for him a kind of personal tenderness, quite distinct from their mere admiration for his genius as a writer. Nor was that feeling based on his books alone. So far as one could learn at the time, no great dissimilarity existed between the author and the man. We all remember Byron's corrosive remark on the sentimentalist Sterne, that he "whined over a dead ass, and allowed his mother to die of hunger." But Dickens' feelings were by no means confined to his pen. He was known to be a good father and a good friend, and of perfect truth and honesty. The kindly tolerance for the frailties of a father or brother which he admired in Little Dorrit, he was ready to extend to his own father and his own brother. He was most assiduous in the prosecution of his craft as a writer, and yet had time and leisure of heart at command for all kinds of good and charitable work. His private character had so far stood above all floating cloud of suspicion.
That Dickens felt an honourable pride in the general affection he inspired, can readily be understood. He also felt, even more honourably, its great responsibility. He knew that his books and he himself were a power for good, and he foresaw how greatly his influence would suffer if a suspicion of hypocrisy--the vice at which he had always girded--were to taint his reputation. Here, for instance, in "Little Dorrit," the work written in the thick of his home troubles, he had written of Clennam as "a man who had, deep-rooted in his nature, a belief in all the gentle and good things his life had been without," and had shown how this belief had "saved Clennam still from the whimpering weakness and cruel selfishness of holding that because such a happiness or such a virtue had not come into his little path, or worked well for him, therefore it was not in the great scheme, but was reducible, when found in appearance, to the basest elements." A touching utterance if it expressed the real feeling of a writer sorely disappointed and in great trouble; but an utterance moving rather to contempt if it came from a writer who had transferred his affections from his wife to some other woman. I do not wonder, therefore, that Dickens, excited and exasperated, spoke out, though I think it would have been better if he had kept silence.
But he did other things that were not justifiable. He quarrelled with Messrs. Bradbury and Evans, his publishers, because they did not use their influence to get Punch, a periodical in which Dickens had no interest, to publish the personal statement that had appeared in Household Words; and worse, much worse, he wrote a letter, which ought never to have been written, detailing the grounds on which he and his wife had separated. This letter, dated the 28th of May, 1858, was addressed to his secretary, Arthur Smith, and was to be shown to any one interested. Arthur Smith showed it to the London correspondent of The New York Tribune, who naturally caused it to be published in that paper. Then Dickens was horrified. He was a man of far too high and chivalrous feeling not to know that the letter contained statements with regard to his wife's failings which ought never to have been made public. He knew as well as any one, that a literary man ought not to take the world into his confidence on such a subject. Ever afterwards he referred to the letter as his "violated letter." But, in truth, the wrong went deeper than the publication. The letter should never have been written, certainly never sent to Arthur Smith for general perusal. Dickens' only excuse is the fact that he was clearly not himself at the time, and that he never fell into a like error again. It is, however, sad to notice how entirely his wife seems to have passed out of his affection. The reference to her in his will is almost unkind; and when death was on him she seems not to have been summoned to his bedside.

FOOTNOTES:
[25] Dickens did not accept the whole Carlyle creed. He retained a sort of belief in the collective wisdom of the people, which Carlyle certainly did not share.
---