---
BIOGRAPHY OF CHARLES DICKENS: CHAPTER IX.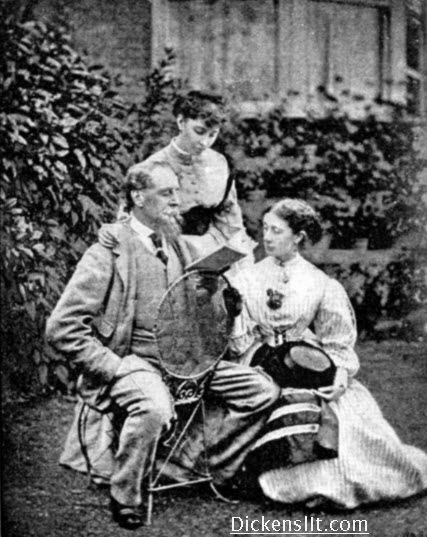 Charles Dickens as a Victorian Patriarch - Reading to His Daughters in the Garden
The publication of the "Pictures," though I have dealt with it as a sort of complement to Dickens' sojourn in Italy, carries us to the year 1846. But before going on with the history of that year, there are one or two points to be taken up in the history of 1845. The first is the performance, on the 21st of September, of Ben Jonson's play of "Every Man in his Humour," by a select company of amateur actors, among whom Dickens held chief place. "He was the life and soul of the entire affair," says Forster. "I never seem till then to have known his business capabilities. He took everything on himself, and did the whole of it without an effort. He was stage director, very often stage carpenter, scene arranger, property man, prompter, and band-master. Without offending any one, he kept every one in order. For all he had useful suggestions.... He adjusted scenes, assisted carpenters, invented costumes, devised playbills, wrote out calls, and enforced, as well as exhibited in his own proper person, everything of which he urged the necessity on others." Dickens had once thought of the stage as a profession, and was, according to all accounts, an amateur actor of very unusual power. But of course he only acted for his amusement, and I don't know that I should have dwelt upon this performance, which was followed by others of a similar kind, if it did not, in Forster's description, afford such a signal instance of his efficiency as a practical man. The second event to be mentioned as happening in 1845, is the publication of another very pretty Christmas story, "The Cricket on the Hearth."
Though Dickens had ceased to edit The Daily News on the 9th of February, 1846, he contributed to the paper for some few weeks longer. But by the month of May his connection with it had entirely ceased; and on the 31st of that month, he started, by Belgium and the Rhine, for Lausanne in Switzerland, where he had determined to spend some time, and commence his next great book, and write his next Christmas story.
A beautiful place is Lausanne, as many of my readers will know; and a beautiful house the house called Rosemont, situated on a hill that rises from the Lake of Geneva, with the lake's blue waters stretching below, and across, on the other side, a magnificent panorama of snowy mountains, the Simplon, St. Gothard, Mont Blanc, towering to the sky. This delightful place Dickens took at a rent of some £10 a month. Then he re-arranged all the furniture, as was his energetic wont. Then he spent a fortnight or so in looking about him, and writing a good deal for Lord John Russell on Ragged Schools, and for Miss Coutts about her various charities; and finally, on the 28th of June, as he announced to Forster in capital letters, BEGAN DOMBEY.
But as the Swiss pine with home-sickness when away from their own dear land, so did this Londoner, amid all the glories of the Alps, pine for the London streets. It seemed almost as if they were essential to the exercise of his genius. The same strange mental phenomenon which he had observed in himself at Genoa was reproduced here. Everything else in his surroundings smiled most congenially. The place was fair beyond speech. The shifting, changing beauty of the mountains entranced him. The walks offered an endless variety of enjoyment. He liked the people. He liked the English colony. He had made several dear friends among them and among the natives. He was interested in the politics of the country, which happened, just then, to be in a state of peculiar excitement and revolution. Everything was charming;--"but," he writes, "the toil and labour of writing, day after day, without that magic-lantern (of the London streets) is IMMENSE!" It literally knocked him up. He had "bad nights," was "sick and giddy," desponding over his book, more than half inclined to abandon the Christmas story altogether for that year. However, a short trip to Geneva, and the dissipation of a stroll or so in its thoroughfares, to remind him, as it were, of what streets were like, and a week of "idleness" "rusting and devouring," "complete and unbroken," set him comparatively on his legs again, and before he left Lausanne for Paris on the 16th of November, he had finished three parts of "Dombey," and the "Battle of Life."
Of the latter I don't know that I need say anything. It is decidedly the weakest of his Christmas books. But "Dombey" is very different work, and the first five numbers especially, which carry the story to the death of little Paul, contain passages of humour and pathos, and of humour and pathos mingled together and shot in warp and woof, like some daintiest silken fabric, that are scarcely to be matched in the language. As I go in my mind through the motherless child's short history--his birth, his christening, the engagement of the wet-nurse, the time when he is consigned to the loveless care of Mrs. Pipchin, his education in Dr. Blimber's Academy under the classic Cornelia, and his death--as I follow it all in thought, now smiling at each well-remembered touch of humour, and now saddened and solemnized as the shadow of death deepens over the frail little life, I confess to something more than critical admiration for the writer as an artist. I feel towards him as towards one who has touched my heart. Of course it is the misfortune of the book, regarding it as a whole, that the chapters relating to Paul, which are only an episode, should be of such absorbing interest, and come so early. Dickens really wrote them too well. They dwarf the rest of the story. We find a difficulty in resuming the thread of it with the same zest when the child is gone. But though the remainder of the book inevitably suffers in this way, it ought not to suffer unduly. Even apart from little Paul the novel is a fine one. Pride is its subject, as selfishness is that of "Martin Chuzzlewit." Mr. Dombey, the city merchant, has as much of the arrogance of caste and position as any blue-blooded hidalgo. He is as proud of his name as if he had inherited it from a race of princes. That he neglects and slights his daughter, and loves his son, is mainly because the latter will add a sort of completeness to the firm, and make it truly Dombey and Son, while the girl, for all commercial purposes, can be nothing but a cipher. And through his pride he is struck to the heart, and ruined. Mr. Carker, his confidential agent and manager, trades upon it for all vile ends, first to feather his own nest, and then to launch his patron into large and unsound business ventures. The second wife, whom he marries, certainly with no affection on either side, but purely because of her birth and connections, and because her great beauty will add to his social prestige--she, with ungovernable pride equal to his own, revolts against his authority, and, in order to humiliate him the more, pretends to elope with Carker, whom in turn she scorns and crushes. Broken thus in fortune and honour, Mr. Dombey yet falls not ignobly. His creditors he satisfies in full, reserving to himself nothing; and with a softened heart turns to the daughter he had slighted, and in her love finds comfort. Such is the main purport of the story, and round it, in graceful arabesques, are embroidered, after Dickens' manner, a whole world of subsidiary incidents thronged with all sorts of characters. What might not one say about Dr. Blimber's genteel academy at Brighton; and the Toodles family, so humble in station and intellect and so large of heart; and the contrast between Carker the manager and his brother, who for some early dishonest act, long since repented of, remains always Carker the junior; and about Captain Cuttle, and that poor, muddled nautical philosopher, Captain Bunsby, and the Game Chicken, and Mrs. Pipchin, and Miss Tox; and Cousin Feenix with wilful legs so little under control, and yet to the core of him a gentleman; and the apoplectic Major Bagstock, the Joey B. who claimed to be "rough and tough and devilish sly;" and Susan Nipper, as swift of tongue as a rapier, and as sharp? Reader, don't you know all these people? For myself, I have jostled against them constantly any time the last twenty years. They are as much part of my life as the people I meet every day.
But there is one person whom I have left out of my enumeration, not certainly because I don't know him, for I know him very well, but because I want to speak about him more particularly. That person is my old friend, Mr. Toots; and the special point in his character which induces me to linger is the slight touch of craziness that sits so charmingly upon him. M. Taine, the French critic, in his chapters on Dickens, repeats the old remark that genius and madness are near akin.[20] He observes, and observes truly, that Dickens describes so well because an imagination of singular intensity enables him to see the object presented, and at the same time to impart to it a kind of visionary life. "That imagination," says M. Taine, "is akin to the imagination of the monomaniac." And, starting from this point, he proceeds to show, here again quite truly, with what admirable sympathetic power and insight Dickens has described certain cases of madness, as in Mr. Dick. But here, having said some right things, M. Taine goes all wrong. According to him, these portraits of persons who have lost their wits, "however amusing they may seem at first sight," are "horrible." They could only have been painted by "an imagination such as that of Dickens, excessive, disordered, and capable of hallucination." He seems to be not far from thinking that only our splenetic and melancholy race could have given birth to such literary monsters. To speak like this, as I conceive, shows a singular misconception of the instinct or set purpose that led Dickens to introduce these characters into his novels at all. It is perfectly true that he has done so several times. Barnaby Rudge, the hero of the book of the same name, is half-witted. Mr. Dick, in "David Copperfield," is decidedly crazy. Mr. Toots is at least simple. Little Miss Flite, in "Bleak House," haunting the Law Courts in expectation of a judgment on the Day of Judgment, is certainly not compos mentis. And one may concede to M. Taine that some element of sadness must always be present when we see a human creature imperfectly gifted with man's noblest attribute of reason. But, granting this to the full, is it possible to conceive of anything more kindly and gentle in the delineation of partial insanity than the portraits which the French critic finds horrible? Barnaby Rudge's lunatic symptoms are compatible with the keenest enjoyment of nature's sights and sounds, fresh air and free sunlight, and compatible with loyalty and high courage. Many men might profitably change their reason for his unreason. Mr. Dick's flightiness is allied to an intense devotion and gratitude to the woman who had rescued him from confinement in an asylum; there lives a world of kindly sentiments in his poor bewildered brains. Of Mr. Toots, Susan Nipper says truly, "he may not be a Solomon, nor do I say he is, but this I do say, a less selfish human creature human nature never knew." And to this one may add that he is entirely high-minded, generous, and honourable. Miss Flite's crazes do not prevent her from being full of all womanly sympathies. Here I think lies the charm these characters had for Dickens. As he was fond of showing a soul of goodness in the ill-favoured and uncouth, so he liked to make men feel that even in a disordered intellect all kindly virtues might find a home, and a happy one. M. Taine may call this "horrible" if he likes. I think myself it would be possible to find a better adjective.
Dickens was at work on "Dombey and Son" during the latter part of the year 1846, and the whole of 1847, and the early part of 1848. We left him on the 16th of November, in the first of these years, starting from Lausanne for Paris, which he reached on the evening of the 20th. Here he took a house--a "preposterous" house, according to his own account, with only gleams of reason in it; and visited many theatres; and went very often to the Morgue, where lie the unowned dead; and had pleasant friendly intercourse with the notable French authors of the time, Alexandre Dumas the Great, most prolific of romance writers; and Scribe of the innumerable plays; and the poets Lamartine and Victor Hugo; and Chateaubriand, then in his sad and somewhat morose old age. And in Paris too, with the help of streets and crowded ways, he wrote the great number of Dombey, the number in which little Paul dies. Three months did Dickens spend in the French capital, the incomparable city, and then was back in London, at the old life of hard work; but with even a stronger infusion than before of private theatricals--private theatricals on a grandiose scale, that were applauded by the Queen herself, and took him and his troupe starring about during the next three or four years, hither and thither, and here and there, in London and the provinces. "Splendid strolling" Forster calls it; and a period of unmixed jollity and enjoyment it seems to have been. Of course Dickens was the life and soul of it all. Mrs. Cowden Clarke, one of the few survivors, looking back to that happy time, says enthusiastically, "Charles Dickens, beaming in look, alert in manner, radiant with good humour, genial-voiced, gay, the very soul of enjoyment, fun, good taste, and good spirits, admirable in organizing details and suggesting novelty of entertainment, was of all beings the very man for a holiday season."[21] The proceeds of the performances were devoted to various objects, but chiefly to an impossible "Guild of Literature and Art," which, in the sanguine confidence of its projectors, and especially of Dickens, was to inaugurate a golden age for the author and the artist. But of all this, and of Dickens' speeches at the Leeds Mechanics' Institute, and Glasgow Athenæum, in the December of 1847, I don't know that I need say very much. The interest of a great writer's life is, after all, mainly in what he writes; and when I have said that "Dombey" proved to be a pecuniary success, the first six numbers realizing as much as £2,820, I think I may fairly pass on to Dickens' next book, the "Haunted Man."
This was his Christmas story for 1848; the last, and not the worst of his Christmas stories. Both conception and treatment are thoroughly characteristic. Mr. Redlaw, a chemist, brooding over an ancient wrong, comes to the conclusion that it would be better for himself, better for all, if, in each of us, every memory of the past could be cancelled. A ghostly visitant, born of his own resentment and gloom, gives him the boon he seeks, and enables him to go about the world freezing all recollection in those he meets. And lo the boon turns out to be a curse. His presence blights those on whom it falls. For with the memory of past wrongs, goes the memory of past benefits, of all the mutual kindlinesses of life, and each unit of humanity becomes self-centred and selfish. Two beings alone resist his influence--one, a creature too selfishly nurtured for any of mankind's better recollections; and the other a woman so good as to resist the spell, and even, finally, to exorcise it in Mr. Redlaw's own breast.
"David Copperfield" was published between May, 1849, and the autumn of 1850, and marks, I think, the culminating point in Dickens' career as a writer. So far there had been, not perhaps from book to book, but on the whole, decided progress, the gradual attainment of greater ease, and of the power of obtaining results of equal power by simpler means. Beyond this there was, if not absolute declension, for he never wrote anything that could properly be called careless and unworthy of himself, yet at least no advance. Of the interest that attaches to the book from the fact that so many portions are autobiographical, I have already spoken; nor need I go over the ground again. But quite apart from such adventitious attractions, the novel is an admirable one. All the scenes of little David's childhood in the Norfolk home--the Blunderstone rookery, where there were no rooks--are among the most beautiful pictures of childhood in existence. In what sunshine of love does the lad bask with his mother and Peggotty, till Mrs. Copperfield contracts her disastrous second marriage with Mr. Murdstone! Then how the scene changes. There come harshness and cruelty; banishment to Mr. Creakle's villainous school; the poor mother's death; the worse banishment to London, and descent into warehouse drudgery; the strange shabby-genteel, happy-go-lucky life with the Micawbers; the flight from intolerable ills in the forlorn hope that David's aunt will take pity on him. Here the scene changes again. Miss Betsy Trotwood, a fine old gnarled piece of womanhood, places the boy at school at Canterbury, where he makes acquaintance with Agnes, the woman whom he marries far, far on in the story; and with her father, Mr. Wickham, a somewhat port wine-loving lawyer; and with Uriah Heep, the fawning villain of the piece. How David is first articled to a proctor in Doctors' Commons, and then becomes a reporter, and then a successful author; and how he marries his first wife, the childish Dora, who dies; and how, meanwhile, Uriah is effecting the general ruin, and aspiring to the hand of Agnes, till his villanies are detected and his machinations defeated by Micawber--how all this comes about, would be a long story to tell. But, as is usual with Dickens, there are subsidiary rills of story running into the main stream, and by one of these I should like to linger a moment. The head-boy, and a kind of parlour-boarder, at Mr. Creakles' establishment, is one Steerforth, the spoilt only son of a widow. This Steerforth, David meets again when both are young men, and they go down together to Yarmouth, and there David is the means of making him known to a family of fisherfolk. He is rich, handsome, with an indescribable charm, according to his friends' testimony, and he induces the fisherman's niece, the pretty Em'ly, to desert her home, and the young boat-builder to whom she is engaged, and to fly to Italy. Now to this story, as Dickens tells it, French criticism objects that he dwells exclusively on the sin and sorrow, and sets aside that in which the French novelist would delight, viz., the mad force and irresistible sway of passion. To which English criticism may, I think, reply, that the "pity of it," the wide-working desolation, are as essentially part of such an event as the passion; and, therefore, even from an exclusively artistic point of view, just as fit subjects for the novelist.
While "David Copperfield" was in progress, Dickens started on a new venture. He had often before projected a periodical, and twice, as we have seen,--once in Master Humphrey's Clock, and again as editor of The Daily News,--had attempted quasi-journalism or its reality. But now at last he had struck the right vein. He had discovered a means of utilizing his popularity, and imparting it to a paper, without being under the crushing necessity of writing the whole of that paper himself. The first number of Household Words appeared on the 30th of March, 1850.
The "preliminary word" heralds the paper in thoroughly characteristic fashion, and is, not unnaturally, far more personal in tone than the first leading article of the first number of The Daily News, though that, too, be it said in passing, bears traces, through all its officialism, of having come from the same pen.[22] In introducing Household Words to his new readers, Dickens speaks feelingly, eloquently, of his own position as a writer, and the responsibilities attached to his popularity, and tells of his hope that a future of instruction, and amusement, and kindly playful fancy may be in store for the paper. Nor were his happy anticipations belied. All that he had promised, he gave. Household Words found an entrance into innumerable homes, and was everywhere recognized as a friend. Never did editor more strongly impress his own personality upon his staff. The articles were sprightly, amusing, interesting, and instructive too--often very instructive, but always in an interesting way. That was one of the periodical's main features. The pill of knowledge was always presented gilt. Taking Household Words and All the Year Round together--and for this purpose they may properly be regarded as one and the same paper, because the change of name and proprietorship in 1859[23] brought no change in form or character,--taking them together, I say, they contain a vast quantity of very pleasant, if not very profound, reading. Even apart from the stories, one can do very much worse than while away an hour, now and again, in gleaning here and there among their pages. Among Dickens' own contributions may be mentioned "The Child's History of England," and "Lazy Tour of Two Idle Apprentices"--being the record of an excursion made by him in 1857, with Mr. Wilkie Collins; and "The Uncommercial Traveller" papers. While as to stories, "Hard Times" appeared in Household Words; and "The Tale of Two Cities" and "Great Expectations," in All the Year Round. And to the Christmas numbers he gave some of his best and daintiest work. Nor were novels and tales by other competent hands wanting. Here it was that Mrs. Gaskell gave to the world those papers on "Cranford" that are so full of a dainty, delicate humour, and "My Lady Ludlow," and "North and South," and "A Dark Night's Work." Here, too, Mr. Wilkie Collins wove together his ingenious threads of plot and mystery in "The Moonstone," "The Woman in White," and "No Name." And here also Lord Lytton published "A Strange Story," and Charles Reade his "Very Hard Cash."
The year 1851 opened sadly for Dickens. His wife, who had been confined of a daughter in the preceding August, was so seriously unwell that he had to take her to Malvern. His father, to whom, notwithstanding the latter's peculiarities and eccentricities, he was greatly attached, died on the 31st of March; and on the 14th of April his infant daughter died also. In connection with this latter death there occurred an incident of great pathos. Dickens had come up from Malvern on the 14th, to take the chair at the dinner on behalf of the Theatrical Fund, and looking in at Devonshire Terrace on his way, played with the children, as was his wont, and fondled the baby, and then went on to the London Tavern.[24] Shortly after he left the house, the child died, suddenly. The news was communicated to Forster, who was also at the dinner, and he decided that it would be better not to tell the poor father till the speech of the evening had been made. So Dickens made his speech, and a brilliant one it was--it is brilliant even as one reads it now, in the coldness of print, without the glamour of the speaker's voice, and presence, and yet brilliant with an undertone of sadness, which the recent death of the speaker's father would fully explain. And Forster, who knew of the yet later blow impending on his friend, had to sit by and listen as that dear friend, all unconscious of the dread application of the words, spoke of "the actor" having "sometimes to come from scenes of sickness, of suffering, ay, even of death itself, to play his part;" and then went on to tell how "all of us, in our spheres, have as often to do violence to our feelings, and to hide our hearts in fighting this great battle of life, and in discharging our duties and responsibilities."
In this same year, 1851, Dickens left the house in Devonshire Terrace, now grown too small for his enlarging household, and, after a long sojourn at Broadstairs, moved into Tavistock House, in Tavistock Square. Here "Bleak House" was begun at the end of November, the first number being published in the ensuing March. It is a fine work of art unquestionably, a very fine work of art--the canvas all crowded with living figures, and yet the main lines of the composition well-ordered and harmonious. Two threads of interest run through the story, one following the career of Lady Dedlock, and the other tracing the influence of a great Chancery suit on the victims immeshed in its toils. From the first these two threads are distinct, and yet happily interwoven. Let us take Lady Dedlock's thread first. She is the wife of Sir Leicester Dedlock, whose "family is as old as the hills, and a great deal more respectable," and she is still very beautiful, though no longer in the bloom of youth, and she is cold and haughty of manner, as a woman of highest fashion sometimes may be. But in her past there is an ugly hidden secret; and a girl of sweetest disposition walks her kindly course through the story, who might call Lady Dedlock "mother." This secret, or perhaps rather the fact that there is a secret at all, she reveals in a moment of surprise to the family lawyer; and she lays herself still further open to his suspicions by going, disguised in her maid's clothes, to the poor graveyard where her former lover lies buried. The lawyer worms the whole story out, and, just as he is going to reveal it, is murdered by the French maid aforesaid. But the murder comes too late to save my lady, nay, adds to her difficulties. She flies, in anticipation of the disclosure of her secret, and is found dead at the graveyard gate. To such end has the sin of her youth led her. So once again has Dickens dwelt, not on the passionate side of wrongful love, but on its sorrow. Now take the other thread--the Chancery suit--"Jarndyce versus Jarndyce," a suit held in awful reverence by the profession as a "monument of Chancery practice"--a suit seemingly interminable, till, after long, long years of wrangling and litigation, the fortuitous discovery of a will settles it all, with the result that the whole estate has been swallowed up in the costs. And how about the litigants? How about poor Richard Carstone and his wife, whom we see, in the opening of the story, in all the heyday and happiness of their youth, strolling down to the court--they are its wards,--and wondering sadly over the "headache and heartache" of it all, and then saying, gleefully, "at all events Chancery will work none of its bad influence on us"? "None of its bad influence on us!" poor lad, whose life is wasted and character impaired in following the mirage of the suit, and who is killed by the mockery of its end. Thus do the two intertwined stories run; but apart from these, though all in place and keeping, and helping on the general development, there is a whole profusion of noticeable characters. In enumerating them, however baldly, one scarcely knows where to begin. The lawyer group--clerks and all--is excellent. Dickens' early experiences stood him in good stead here. Excellent too are those studies in the ways of impecuniosity and practical shiftlessness, Harold Skimpole, the airy, irresponsible, light-hearted epicurean, with his pretty tastes and dilettante accomplishments, and Mrs. Jellyby, the philanthropist, whose eyes "see nothing nearer" than Borrioboola-Gha, on the banks of the far Niger, and never dwell to any purpose on the utter discomfort of the home of her husband and children. Characters of this kind no one ever delineated better than Dickens. That Leigh Hunt, the poet and essayist, who had sat for the portrait of Skimpole, was not altogether flattered by the likeness, is comprehensible enough; and in truth it is unfair, both to painter and model, that we should take such portraits too seriously. Landor, who sat for the thunderous and kindly Boythorn, had more reason to be satisfied. Besides these one may mention Joe, the outcast; and Mr. Turveydrop, the beau of the school of the Regency--how horrified he would have been at the juxtaposition--and George, the keeper of the rifle gallery, a fine soldierly figure; and Mr. Bucket, the detective--though Dickens had a tendency to idealize the abilities of the police force. As to Sir Leicester Dedlock, I think he is, on the whole, "mine author's" best study of the aristocracy, a direction in which Dickens' forte did not lie, for Sir Leicester is a gentleman, and receives the terrible blow that falls upon him in a spirit at once chivalrous and human.
What between "Bleak House," Household Words, and "The Child's History of England," Dickens, in the spring of 1853, was overworked and ill. Brighton failed to restore him; and he took his family over to Boulogne in June, occupying there a house belonging to a certain M. de Beaucourt. Town, dwelling, and landlord, all suited him exactly. Boulogne he declared to be admirable for its picturesqueness in buildings and life, and equal in some respects to Naples itself. The dwelling, "a doll's house of many rooms," embowered in roses, and with a terraced garden, was a place after his own heart. While as to the landlord--he was "wonderful." Dickens never tires of extolling his virtues, his generosity, his kindness, his anxiety to please, his pride in "the property." All the pleasant delicate quaint traits in the man's character are irradiated as if with French sunshine in his tenant's description. It is a dainty little picture and painted with the kindliest of brushes. Poor Beaucourt, he was "inconsolable" when he and Dickens finally parted three years afterwards--for twice again did the latter occupy a house, but not this same house, on "the property." Many were the tears that he shed, and even the garden, the loved garden, went forlorn and unweeded. But that was in 1856. The parting was not so final and terrible in the October of 1853, when Dickens, having finished "Bleak House," started with Mr. Wilkie Collins, and Augustus Egg, the artist, for a holiday tour in Switzerland and Italy.

FOOTNOTES:
[20] "History of English Literature," vol. v.
[21] "Recollections of Writers," by Charles and Mary Cowden Clarke.
[22] As, for instance, in such expressions as this: "The stamp on newspapers is not like the stamp on universal medicine bottles, which licenses anything, however false and monstrous."
[23] The last number of Household Words appeared on the 28th of May, 1859, and the first of All the Year Round on the 30th of April, 1859.
[24] There are one or two slight discrepancies between Forster's narrative and that of Miss Dickens and Miss Hogarth. The latter are clearly more likely to be right on such a matter.
---