The Main Characters in Great Expectations
Short descriptions of the main characters in
Great Expectations
.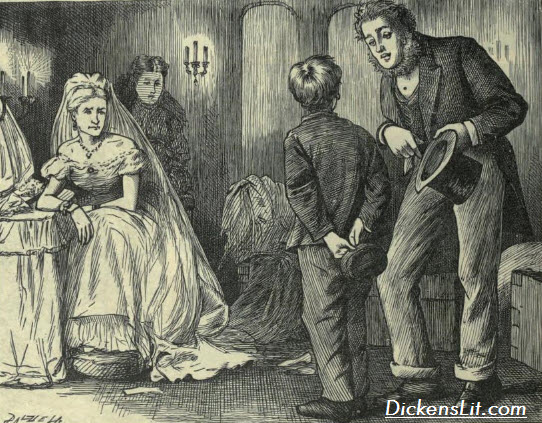 Philip "Pip" Pirrip
The protagonist of the novel (narrated in first person). Pip is an orphan raised by his sister and brother. He receives a lot of money from an unknown benefactor whom he believes to be Miss Havisham, a noblewoman who has taken him under her protection. Pip goes to London to study and discovers that his benefactor is actually Magwitch, a convict that he had helped to escape. Eventually Pip spends all the money, returns to his hometown were he reunites with Estella. There are two alternate endings, in the original Estella has remarried and is still unavailable. In the last, there is a hint that Pip might at last obtain his true love.
Abel Magwitch
An escaped convict who forced Pip to help him escape. Later Magwitch made a fortune in Australia and gave Pip a large sum of money anonymously. He later returned to London to meet Pip, is discovered and sentenced to hang, but dies before the execution.
Estella Havisham
An orphan brought up by Miss Havisham to take revenge on the men who desire her because of her appearance but cannot have her. Pip is in love with her, but she humiliates him. She later rebels against Miss Havisham and marries Drummle, who mistreats her.
Joe Gargery
The husband of Pip's sister. He is a blacksmith with a deep affection for an assistant named Orlick.
Mrs. Gargery
Pip's much older sister and Joe's wife. She is abusive and mistreats her younger brother Pip, frequently beating him with a stick.
Orlick
Joe Gargery's evil assistant, tries to kill Pip, whom he has always hated, but his attempt is foiled.
Miss Havisham
Perhaps the most important of the secondary characters, is an old noble, in her youth
Miss Havisham
's fiancÚ sent her a letter, delivered on the wedding day, explaining that he had run off with another woman, so she, overcome by pain, decided to leave her house unchanged since then, including the cake that was left to mold on a table for decades. She is the adoptive mother of Estella, an orphan whom she has raised to scorn men as a means of vicarious revenge.
Herbert
A friend of Pip in London, saves him from the clutches of Orlick thanks to a timely intervention.
Jaggers
Intermediary who delivers Magwitch's money to Pip.