Charles Dickens

Charles Dickens



Who Was Charles Dickens?

Charles Dickens (February 7, 1812–June 9, 1870), pen-name "Boz", was a very popular and prolific British author who lived and wrote during the Victorian Era. He was the author of over two dozen books, many of which are considered masterpieces of English literature. Though written for publication in serial form in magazines, the novels of Charles Dickens are deeply complex (often maddeningly so) with multiple layers of meaning, differing viewpoints, and large numbers of well-drawn major and minor characters. Dickens' works are still widely read today, while most of his Victorian contemporaries have faded into unread obscurity.


DickensLit.com is a comprehensive encyclopedia about Charles Dickens including a biography, plot summaries, and a dictionary of Dickens' major literary characters.
Charles Dickens Facts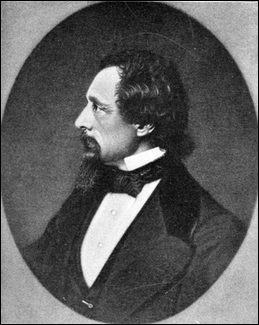 Charles Dickens was born on Friday, February 7, 1812 near Portsmouth, England. His father, John Dickens, was a clerk in the navy pay-office at the Portsmouth dockyard. Many of Dickens' novels display a familiarity with navy life and sailors, which he may have picked up from his father.
In 1814, Dickens father was recalled to London and then transferred again, in 1816, to the Chatham.
In Chatham, the family lived in Ordnance Place, and Charles Dickens was sent to a school kept in Gibraltar Place, New Road, by William Giles. As a child Charles Dickens is said to have been a great reader, and very early began to attempt original writing.
Dickens' Early Life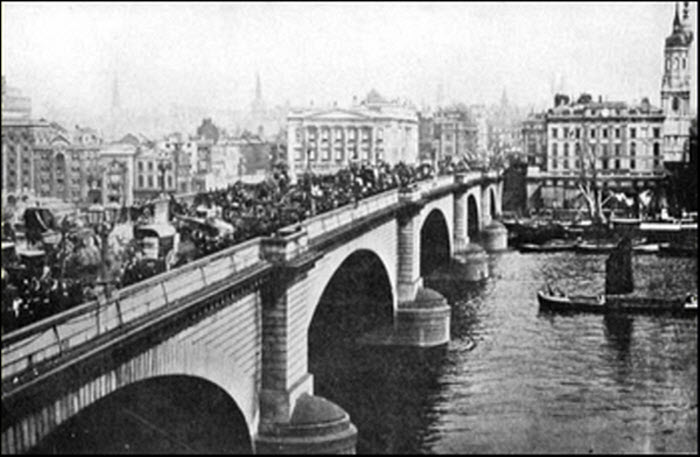 In 1821, when Charles Dickens was nine years of age, the family fell into financial trouble. Reforms and cutbacks at the British Admiralty resulted in Dickens's father losing his position and most of his income.
To cut costs, the Dickens family moved to shabby lodgings on a dingy street but they could not afford even this, and the father fell into debt. Unable to repay his creditors, Dickens senior was arrested and sent to the debtor's prison called the Marshalsea. Charles Dickens was forced to withdraw from school because his parents could not afford the tuition. And to help make ends meet, they had to send the young boy to work. At the age of 9, Charles Dickens was sent to work to earn his own living and to help support his family. Working conditions for all factory employees in Victorian England were extremely poor; their pay was low and the hours long. In many ways the factories of Victorian England resembled the sweat shops that exist in many Asian countries today; the use of child laborers was common. For children working in these sweat shops, the working conditions were abysmal. The degradation and misery of Dickens' early life would stay with him forever. As an adult, he would never speak of these times openly but many of his novels deal sympathetically with the plight of street urchins, prostitutes and other people on the margins of society.
Dickens worked twelve hours a day. At nights, the young boy was completely alone and had to fend for himself. He lived in a barren bedroom, four miles from where he worked - with absolutely no adult supervision. His father was in jail and his mother had moved into her husband's cell in order to be near him. His only contact with his parents was on Sundays, when he visited them at the jail. It is difficult to imagine the effect that this kind of life must have had on Charles Dickens emotional development; he might easily have turned to crime and delinquency. Yet as an adult, Charles Dickens was known for endless energy and an optimistic view of life. It is even more remarkable, that this neglected and completely unsupervised boy, not only survived but that he grew up be a successful author.
After a few years of this miserable existence, Dickens' father was released from jail and the family went back to Camden Town, where Dickens resumed his studies at a public school. It was there that Dickens became a great devourer of books, reading all the plays and books that he could get.
Dickens as Young Man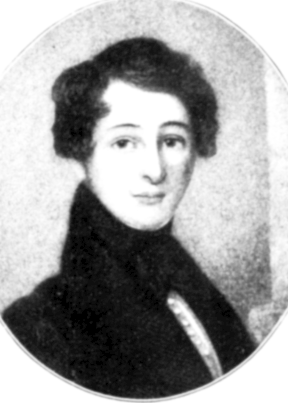 Charles Dickens as Young Man
Unfortunately, but the Dickens family was still in poor financial shape and so young Charles Dickens was again withdrawn from school and sent to work. This time he was sent to work in a solicitor's office. Though this was an improvement over working in a sweat shop, young boys working in solicitors' offices in Victorian England had to work incredibly hard: they had to copy documents for their employer by hand (there were of course no photocopiers); and the copies had to be perfect, despite the poor lighting delivered by oil or gas lamp.
Dickens detested working in the lawyer's office and his scathing denunciation of the legal system in Bleak house may have been influenced by his work as a clerk in a lawyer's office. Dickens grew determined to find a better life and aspired to be a reporter like his father, who had at this time found work as a newspaper reporter. Dickens taught himself short hand and he frequented the British Museum and its library daily in order to fill in the gaps in his education.
Charles Dickens got his first job as a reporter when he was 17 years old, but by then Dickens had a new goal: he wanted to be an actor. All his life, Dickens loved acting and the theater above all things. Charles Dickens would likely have made a good actor; in later life he lectured extensively and those who heard his lectures commented that he had a great stage presence.
First Publications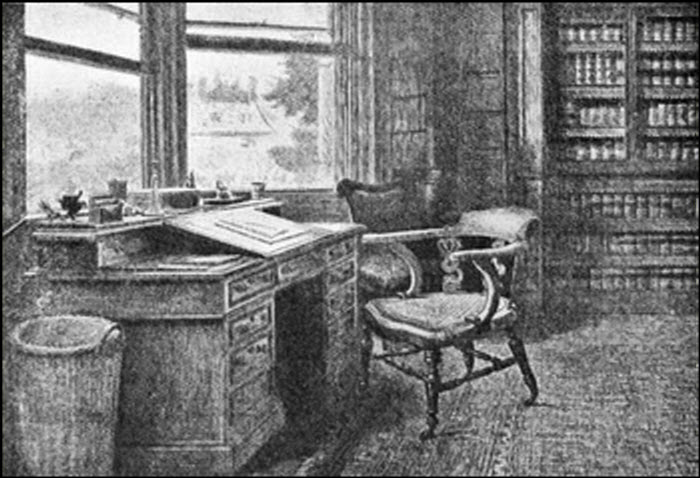 However, Dickens never became a professional actor. He continued to struggle to earn a living and his writing assignements and income were irregular. It was not until Charles Dickens was 22 years old that he succeeded in getting permanent employment on the staff of a London paper as a reporter. His job required him to travel throughout England to cover stories. It was difficult, tiring work. Dickens had to travel hundreds of miles on rough roads on stage coaches that had no suspension system. At the time there were no railways. "I have been upset," be said years afterwards, speaking of this time, "in almost every description of vehicle used in this country."
Despite the hardships, Dickens' work as a reporter was valuable to his later career as a novelist. It exposed him to all types of people and social situations. He was an accurate observer of human behaviour and mannerisms, and what he saw and the people he met as a reporter gave him material for creating his fictional characters.
In December 1833 the Monthly Magazine published Dickens' first original work, called "A Dinner at Poplar Walk." Other articles followed, but at first Dickens did not receive any payment because the magazine could not afford to pay anything.
Dickens articles proved popular, however, and led another magazine, The Evening Chronicle, to hire Dickens as a reporter, and contributing writer. At the age of 23, Dickens was now earning a good income as a reporter and magazine writer. His articles included vivid descriptions of daily British life. These sketches were later collected and published, in book form under the title "Sketches by Boz." (Boz being Dicken's pseudonym)
Charles Dickens Marriage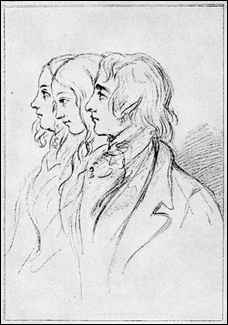 A Portrait of Charles Dickens
and His Wife and Sister
In March of 1836, Dickens married Catherine Hogarth, the daughter of his friend George Hogarth, editor of the Evening Chronicle. The couple would have ten children, but their marriage was unhappy. They separated in 1858 after 22 years of marriage and it was rumored that Charles Dickens had cheated on his wife. Despite the separation, the couple remained married until the Dickens' death over 20 years later, likely because divorce was rare in those days. After the separation, Dickens formed a relationship with a stage actress; it is not clear whether they ever lived together but at his death Dickens left her a considerable portion of his estate. This account gives a fuller description of Dickens' personal life.
How Dickens' Early Life Influenced His Writing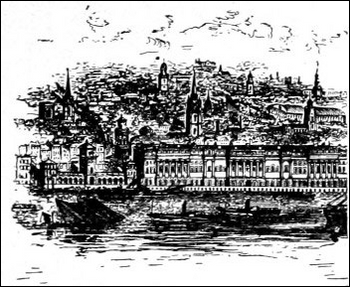 Charles Dickens's childhood amid the poverty and deprivation of the lower classes, shaped his writing and social conscience. Almost every one of his works is based at least in part on an incident from his early childhood, or a person that he had known. For example, the debtors prison in Little Dorrit is the same prison, the Marshalsea, where Dickens' father was imprisoned, and David Copperfield, is based on Charles Dickens himself. Dickens' early struggles provided an almost inexhaustible supply of materials for characters and scenes and he drew heavily on these memories, but in his daily life Dickens never spoke about his childhood and most people were not aware of his early struggles.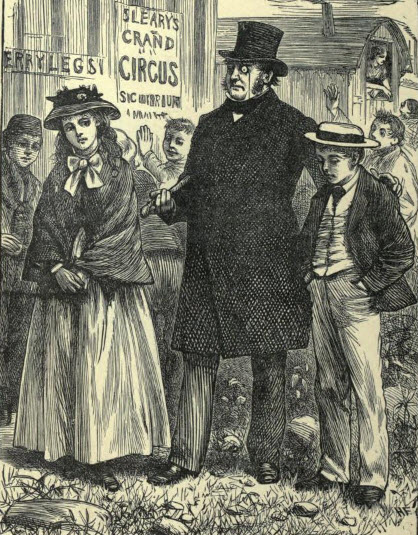 The Novels of Charles Dickens - A Scene From "Hard Times"
From humble beginnings as an impoverished child laborer in a Victorian factory, Dickens reached remarkable heights of popularity. Almost every one of his books became a best seller, and he was respected by critics and fellow writers. When he died on June 9, 1870, after a writing career that spanned fifty-eight years, Dickens was still at the peak of his literary art. He was held in such high esteem by the public and critics that Dickens was given the rare honor of being buried in the Poet's Corner of Westminster Abbey amid other literary greats such as Chaucer. And the passage of time has not diminished his reputation. His books have remained in print continuously and have been translated into numerous foreign languages, and many have been made into movies.
His Principal Writings